Can a Predictive Maintenance Program Increase Productivity and Reduce your Overall Costs?
All equipment requires maintenance to operate properly. All equipment users face decisions about how to manage that maintenance. 
There Are Four Basic Maintenance Options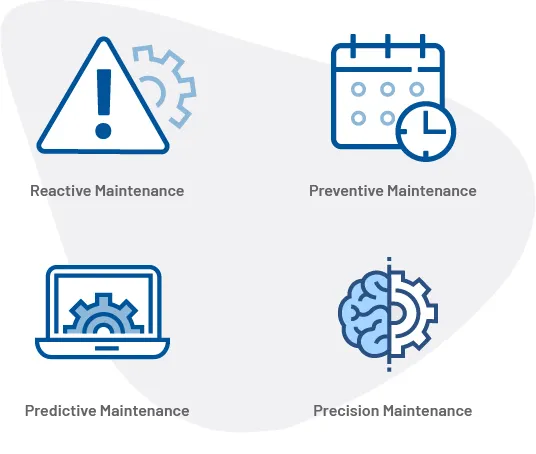 Reactive: Fix it when it breaks.
Preventive: Inspect equipment periodically and replace parts that are showing wear
Predictive: Based on experiential data from the manufacturer and internal history, commit to an interval-based part replacement plan, with observation augmenting the basic plan as needed.
Precision: All-out commitment to operator and technician training, standardized processes, and data collection to anticipate issues and prevent downtime while optimizing maintenance costs.
In EAM-Mosca's experience, Precision maintenance is more of an aspirational option than a realistic one. The world is moving in that direction, but few companies are ready yet. On the opposite end of the spectrum, Reactive maintenance is extremely short-sighted and an invitation to repetitive emergencies, inviting cost and service problems in an increasingly demanding business environment. Preventive maintenance is the accepted practice among high production companies across many industries.
It takes periodic detailed inspection of equipment along with consistent daily, weekly, and monthly cleaning and visual checks of key operating elements. You can learn more about EAM-Mosca's preventive maintenance program here.
Benefits Of Adopting A Predictive Maintenance Program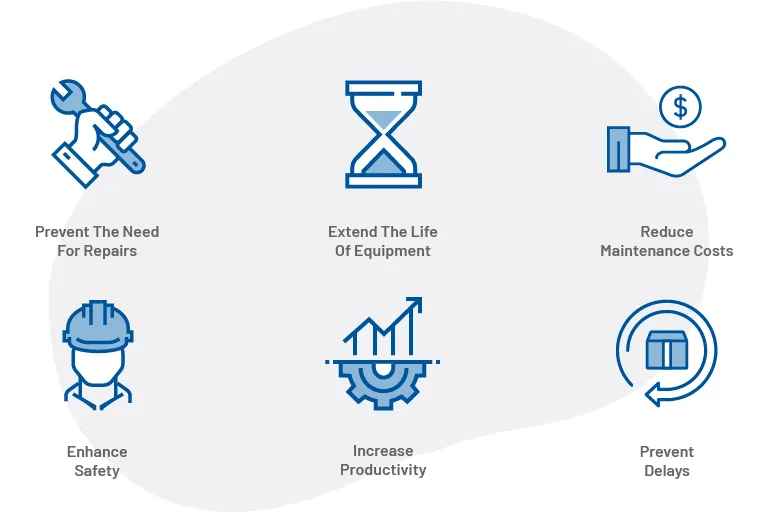 ONE Service: EAM-Mosca's Predictive Maintenance Program
EAM-Mosca believes that the Americas are ready to profitably move from Preventive to Predictive Maintenance. Our German parent company, Mosca GmbH, has been focused on transitioning to Predictive Maintenance with its ONE Service program since 2018 and reports a significant reduction in downtime and emergencies in its customer base since the program's inception. A leap of faith is required to commit to changing parts on a schedule rather than when they fail or show signs of imminent failure. However, results in both Europe and the US indicate that avoidance of process downtime and emergency repairs more than offsets any increase in part consumption.
Here's a quick breakdown of how the predictive program works:
The program is applicable for Mosca generation 5 and 6 bundlers and KSR 2, 3.1, and SHU-SoniXs unitizer strapping heads. Older unitizer heads that aren't outfitted with cycle counters will be managed by time intervals rather than cycle counts.
When a customer wants to convert to the ONE Service program, EAM-Mosca will review the service, part use, and cycle history of the specific piece(s) of equipment involved.
An EAM-Mosca technician examines each machine and brings it up to "factory specifications" to begin the program.
The customer agrees to a regular cleaning and maintenance plan. Personnel will receive any training needed.
A ONE Service call, usually at the 500,000 cycle level, is agreed to, at which time the unit will be inspected. "A" level parts will be replaced with new parts, and "B" level parts will be visually inspected for condition and replaced as needed.
"A" parts are of two types:
Parts critical to reliable operation with a history demonstrating that the half-million cycle interval is a reasonable life cycle expectation
Inexpensive parts like springs that, if they fail, will cause downtime costing far more than the part itself.
"B" parts are longer-lived or less critical components
The condition can be reliably assessed visually and/or by analyzing machine performance.
EAM-Mosca collects and monitors data on machine performance and service/parts usage, adjusting the 500k cycle service interval to reflect experience.
The process continues for the life of the piece of equipment.
The idea of changing parts on a schedule rather than based on inspection or failure strikes some decision-makers as a costly plan. However, Mosca's experience in Europe and our early experience in the US indicate that the benefits of unplanned downtime and emergency repair avoidance more than offsets any parts cost increase.
We firmly believe that production-driven companies that want to maximize process productivity and minimize downtime can benefit from this maintenance plan on their strapping equipment.
Talk to our service and support team members today to learn more about our ONE Service predictive maintenance program and see if you are eligible.
---