Machine Automation: How EAM-Mosca Can Increase Key Metrics For Your Process
There are many good reasons to automate production processes, including cost reduction, increased throughput, and data collection for measurement and maintenance purposes. EAM-Mosca provides a full line of strapping systems from stand-alone semi-automatic strappers to fully automatic bundling and transport packaging systems. A commitment to designing solutions tailored to application requirements makes innovative automation a critical specialty in their product portfolio.  Let's review some examples.
Bundling Linens in Commercial Laundries
Commercial laundries requiring strapped bundles of linens, hospital scrubs, and other soft items are tricky to automate. Bundles are hard to control on automated conveyors where strings and corners tend to catch under conveyor belts or rollers. Small bundles want to fold up when straps are tensioned, while taller bundles need higher strap tension to be stabilized. What might at first blush look like a simple application, takes skill to automate effectively.
Working with a system integrator, EAM-Mosca developed a successful solution built around the Mosca TR6B-SoniXs automatic bundler, featuring extended entry and exit conveyor tables to accommodate a range of bundle sizes. The tables are customized with special belts and a unique table shape to manage bundles without snagging loose ends. The strapper is outfitted with an electric compression bar that prevents bundles from curling as straps are tightened. It also includes a bundle height sensor that varies strap tension with bundle size to find the right balance between tightness and bundle stability.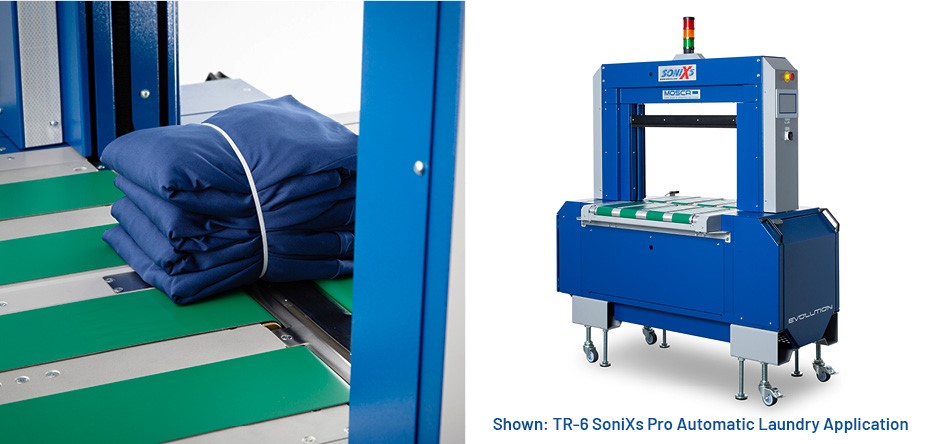 The capability that holds the whole system together is Mosca's Network Communication Option that enables information sharing over Ethernet between the strapping section and other elements of the overall system controlled by the integrator. In the absence of instruction from the system processor, the TR6B-SoniXs has the stand-alone capability to strap bundles automatically with accommodation for bundle variation. Network Communication enables the system controller to manage strapping variables on a bundle by bundle basis, including strap number, position and tension, press force, conveyor acceleration and deceleration rates and speed, and precise fault communication that aids resolution.
Through a combination of mechanical refinement and sophisticated but straightforward controls to manage bundle variation, EAM-Mosca has created a successful solution for an application that has long eluded automation efforts.
Convenience Store Tote Securement 
EAM-Mosca's long-term relationship with a major convenience store chain in Mexico illustrates both automation capability and solution evolution to meet changing customer needs.
In 2005, a large convenience store chain approached EAM-Mosca de Mexico to increase the speed they were securing lids on totes containing high-value items being transported from distribution centers to retail stores on a tight overnight schedule. The existing manual tying process couldn't keep pace with growing demand. The problem was solved with the installation of a fully automatic bundler on the packing lines at multiple distribution sites.  Over time, the requirement changed. Increasing volumes and the need for greater security led to increasing the number of straps per tote from one to two, causing a rethink of the strapping solution.  
To combat this, EAM-Mosca designed a tandem system featuring two TR6B-SoniXs high-speed bundlers with a pacing conveyor that enables the user to double band more than twenty totes per minute. The master system program directs each strapper to place one of the two straps on each tote as they automatically convey through the strapping stage.  Suppose one of the machines is inactive because of a strap coil change, for example. In that case, the controls sense the situation automatically and will apply both straps with the active machine until the inactive unit is back in service. Because the system includes an automatic coil change that starts a new coil in less than fifteen seconds, the systems can maintain very high throughput levels for long periods without human intervention. Since proving the solution in a single distribution center, it has been installed in many locations across the entire company footprint. 
The combination of system advances and excellent machine/strap quality and reliability have been the basis for long-term collaboration that has benefitted both companies. 
Corrugated Box Bundling  
Similarly, the corrugated box business has been on a relentless push to speed up the box-making process. Regular slotted cartons (RSC) are the high-volume boxes most commonly used for everything from packing case goods to parcel shipments. Most recently, the huge increase in parcel shipments has increased box volumes while dramatically increasing the production of smaller boxes. Since revenues tend to be a function of tonnage processed, box makers have been forced to find ways to increase production speeds to maintain dollar sales levels. For EAM-Mosca, this has led to advancing the speed and automation levels of its SQ series of squaring bundlers. 
While the flexo folder gluers that convert flat corrugated sheets into knocked down boxes have steadily increased processing speeds and reduced changeover times, throughput has been further increased on smaller boxes by the employment of bundle breakers and twin box slitters that separate pairs of boxes, made simultaneously from a single sheet, into two separate box bundles. This doubling of bundle throughput required a leap in capability from the strapping systems that tie the bundles. While the basic SQ system speed of up to 24 bundles per minute is impressive, higher speed was needed. 

The SQ4A-Tandem system is the EAM-Mosca answer. The system includes many of the same features as the convenience store solution but goes further. Where totes are uniform in size, boxes vary in length and width, with frequent order changeovers, requiring additional sophistication for truly automated operation. EAM-Mosca has engineered features to meet the need, including: 
Initiating changeovers and learning new bundle size automatically via data transfer from flexoor upstream system 
Using the data to auto position the strappers to align with the incoming box stack
Using the data or reading bundle length to position a single strap in the center of each bundle
Providing a "Small Bundle Option" to reduce the minimum bundle size to 7″ W x 7″ L while maintaining a max bundle width of up to 56 inches with squaring activated and 63″ unsquared. 
Providing an "auto blowout" option to expel accumulated dust from the sealing head area to reduce cleaning requirements
Designing controls so that individual strappers can be positioned on different lines in the plant with no modification
Streamlining the run change process so that it happens without operator involvement, within the time allotment for overall line changes.
Increasing line throughput capability to up to 36 bundles per minute with each strapper applying one strap on alternate bundles, while maintaining the auto-backup feature enables the line to continue running if one machine is inactive.
Since its initial development in 2014, the EAM-Mosca SQ Tandem system has continued to develop and support ever-evolving customer needs. Ongoing system changes have provided a more robust system of squaring bundlers, conveyor, and control that simplifies the user interface and increases the entire production line's uptime. 
Transport Packaging 
EAM-Mosca offers a range of pallet and unit load strapping equipment in addition to high-speed bundling systems. Many of these systems are sold with "OEM" controls where the strapping system is built into a broader system supplied by a system integrator. In these cases, the Mosca equipment accepts instructions from the external source to automatically execute the strapping function.  
The equipment also offers internal automation options to maximize uptime and throughput. Automatic coil change capability keeps things running when a strap coil is emptied, with minimal downtime and no operator intervention. The optional MoscaTrak data collection system provides data on system operation and assists in long-term measurement and maintenance of system performance levels on compression unitizers.  
The EAM-Mosca System Engineering group also offers custom automation capability where it is needed to create the best packaging system solution. An example is a Midwest power tool manufacturer that had trouble keeping pace with seasonal demand peaks for retail displays shipped to home improvement stores. The unique and ever-changing displays were not suitable for the regular automated packing lines, and the manual strapping process in use was too slow.  
EAM-Mosca designed and implemented an "island automation" system where the finished displays are conveyed to a lateral indexing conveyor section for positioning within reach of the extendable strapping heads of two EAM-Mosca USI-Sonixs side seal strapping machines.  The product is then transported to the strapping zone where the custom controls automatically select the proper number and position of straps for the highly variable pallet loads. Once secured to the pallet, displays are conveyed to an exit conveyor and removed by lift truck for shipment. 12mm wide Polyester strapping provides excellent load security for the full range of product configurations. 
At the customer's request, the controls included a screen that displays load counts and cycle efficiency data for process monitoring purposes. The project specification included the requirement of processing each unit load in 30 seconds or less. The system easily matches that requirement and solves the customer's problem. 
For EAM-Mosca It's About Performance 
EAM-Mosca and the Mosca group, while offering a full range of plastic strapping systems, focus on providing high-performing solutions built to fit application requirements. If that means a standard solution, EAM-Mosca is happy to offer one; however, their specialty is to look deeper into each application and propose engineered systems that achieve superior performance over the system's life with the best possible return on user investment.