EAM-Mosca Corp. Celebrates 40 Years! The Story Of How It Started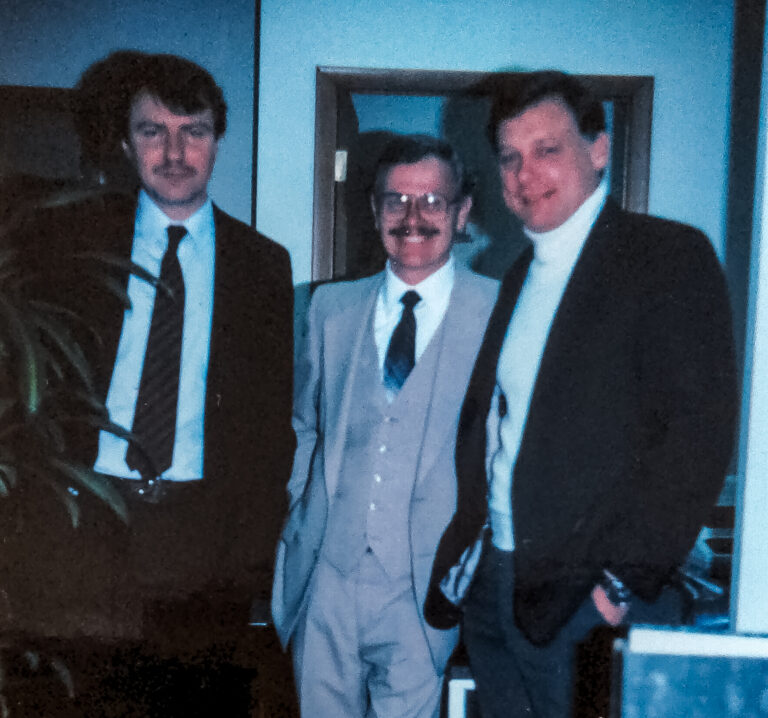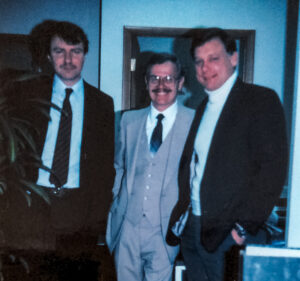 When Dierk Wessel, Bob Leighton, and Hartmut Boellmann decided to leave the Cyklop Group to form their own Company in 1982, they intended to offer a marketing vehicle to assist European companies in entering the US market. They set up shop as EAM (European-American Marketing) in Hauppauge, NY, and went to work. However, their good relationships with strapping system suppliers and customers kept pulling them back to strapping. What started as dabbling led to a distribution agreement with Mosca AG, a German strapping system company looking to strengthen its position in the US market. The Company began selling Mosca bundlers and private branded strapping. Early success led to a move to the current Hazle Township, PA location in 1989.
In 1990, Mosca acquired a majority stake in the Company that became EAM-Mosca Corp., and the organization began in-house strap manufacture. Keys to growth were the sale of the TRC bundler to the corrugated industry and the development of proprietary fully-automatic strapping system solutions for commercial printing, mailing, and other distribution industries.
An opportunity to partner with other strapping business associates led to the establishment of EAM-Mosca Canada in 1992. The Canadian operation developed a corrugated unitizer manufacturing operation, utilizing Mosca strapping head technology in a locally designed and built structure.
In the late 1990s, Mosca introduced their third-generation bundlers that included dc direct drive technology, achieving a quantum leap in performance. Again, the combination of Mosca technology and local adaptation to meet American market needs fueled growth in several markets, including most notably corrugated and commercial printing.
The early 2000s led to the expansion of the strapping operation and office complex and the formation of EAM-Mosca de Mexico. Then came the proprietary SoniXs ultrasonic sealing system, the current Generation 6 series of bundlers, and the SoniXs unitizer strapping head. With steadily improving products and a growing reputation, the Company has continued to grow into new markets, new geographic areas, and broader-based "end of line" systems that include package transport, custom controls, and allied packaging products in addition to strapping systems.
But special products are only part of the EAM-Mosca story. A unique set of values motivates and guides EAM-Mosca team members every day. Building honest, respect-based relationships with all stakeholders, including customers, suppliers, and fellow employees, as practiced by the founders, remains the stated intention of the emerging next-generation leadership. Everyone understands that the customer-first value system has been key to enabling the Company to capitalize on the great products in its portfolio. 
The centrality of positive relationships and customer focus as contributors to company success comes through loud and clear in the comments of long-time team members. As Debbie O'Reilly, current Customer Service Manager who joined the Company in 1984, stated: "…the original three partners showed me respect and trusted me to do my job. In turn, I always did my best and returned the respect. Honored and privileged, that's how I feel when I say I worked for Dierk, Bob, and Hartmut. Thirty-eight years later, I work with the next generation of Wessel, Leighton, and Boellmann". Dave Finlayson, Regional Sales Manager who joined the Company in 1991, says: the Company's "growth has been exceptional, but one thing has always remained the same, and that is the culture of family with all of our employees contributing to the company's success and our customer first commitment." 
The corrugated industry is perhaps the best example of the Company's commitment to continually adapt and improve product performance to meet changing customer needs. Building on early success with the TRC bundler, the Company launched the unitizer program in 1992, giving it a full-line offering for the industry. 
The basic bundler series evolved with the market to focus on the "Q" family of squaring bundlers to provide more consistent bundle squareness while maintaining the simplicity and reliability customers were accustomed to. As demand for higher production speeds developed, the "tandem Q" series maintained bundle quality while increasing throughput capacity from 24 to 36 bundles per minute (bpm). And as speed requirements further increased, generated by faster flexos and two-up bundles feeding bundle breakers and slitters, the innovative Max Q, which reaches a production level of up to 48 bpm, was developed. Its strong market acceptance and solid early performance are indicative of the great match between product and market need. Randy Wright, VP of Corrugated Industry Sales, says, "Over the last three decades with EAM-Mosca, I've been able to see the commitment that everyone has to innovate and to never settle. Being a part of this continues to be extremely rewarding."
The unitizer program has followed a similar path of continuous improvement to meet market needs. While the early unitizers were ruggedly built and were good performers for that time, they relied on relatively heavy 12mm wide straps to achieve consistent feed reliability. Since then, refinements in track design and the introduction of Mosca's SoniXs unitizer strapping head have enabled box makers to achieve even better performance with lighter, less expensive 9mm PET strapping. Production capability has similarly increased through a series of innovative new models. The latest innovation is the CTV- SoniXs unitizing system that features up to 5 strapping heads, with head spacings from 9 to 56.5 inches, to enable single-hit unitizing capability for two to five straps over a broad range of unit sizes. Reducing the number of compression cycles or "hits" increases the throughput of the unitizing system, enabling it to keep up with the seemingly ever-increasing bundle output, another example of the Company adapting to changing market requirements. 
The current backlog of both the bundlers and unitizers attests to our customers' continued loyalty and belief in EAM-Mosca and our products. While we want to express our appreciation here in words, we also want to assure our customers that we will demonstrate this appreciation through exceptional product and service performance in the future.
In corrugated and in all the markets EAM-Mosca serves, the Company is committed to continuous technology leadership, broadening our "end-of-line" system portfolio, and building constructive partnerships with customers to support our mutual success over our second 40 years. We look forward to working together.