EAM-Mosca Introduces the new USI-2 SoniXs!
An Advanced Strapping system for End-of-Line Palletizing and Unitizing
EAM-Mosca's new USI-2 SoniXs is a high-performing high-tension side seal strapping system designed to secure palletized and non-palletized loads for storage and shipment.
Built on the success of the USI-SoniXs, the new USI-2 SoniXs has been engineered for greater flexibility and includes an optimized design with options for the most modifiable strapping system engineered by EAM-Mosca.
The Strapping Head: Existing Technologies Combined with New Innovations
The side-mounted high-tension SoniXs strapping head can strap units at least 20 inches tall. A timing belt drive can index the head up to 18 inches to meet the side of the load, assuring tight straps, even if load position varies. The head can pull up to 450 pounds of strap tension and tightens the strap around the bottom corner of the load, helping avoid potential distortion of fragile products along the top edge of the package. For sensitive products, an optional floating head helps to equalize strap tension around the load, providing a tight pack with minimal product stress.
As with the current USI-SoniXs, the strapping head is built with Mosca's proprietary SoniXs ultrasonic sealing technology. A SoniXs strapping head requires no warmup, seals both PP and PET strap equally well with no emissions, and generates no dust during sealing. Its component life typically exceeds 10 million cycles, several times the life of competitive friction systems.
The newly engineered head mounting system for the USI-2 SoniXs includes convenient removable covers to provide safety during operation with quick and convenient access as needed. The quick-change head makes on-the-fly head swaps fast and easy while the optional spare head provides a reliable backup. An optional maintenance stand enables efficient off-line servicing of the heads.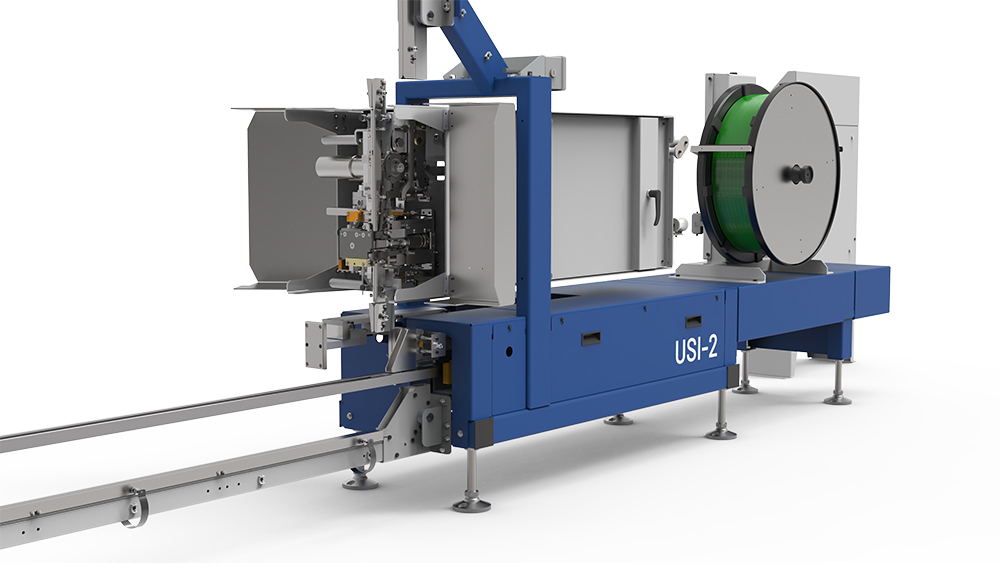 Available Configurations: What's New?
Pallet Lance System
The machine can be configured with pallet lance only, full under-track only, or include a combination of both. If both pallet lance and undertrack are needed, the load sensor automatically senses which option should be deployed based on pallet void detection.
On the USI-2 the pallet sensing system has been upgraded to accommodate different pallet designs. The low-profile pallet lance is 1/3 lower in height than the prior version, allowing it to function successfully in smaller pallet voids while reducing interference issues.
Standard pallet lances are available for track widths from 1200 mm to 2100mm wide in 300mm increments. Both narrower and wider solid track openings are available. The standard conveyor height range is from 7.5 to 20.5 inches with optional heights up to 28".
Optimized Configurations and Options
USI-2 SoniXs footprint has been reduced and its configuration is adaptable to different floor space constraints. The strap dispenser can be placed on the main machine structure or be free-standing and flexibly positioned. The free-standing dispenser can be aligned with, or angled relative to the strap line, mounted on the floor or machine structure.
The strap dispenser has been redesigned, eliminating handedness considerations. An electric dispenser brake and simplified strap guidance speeds-up coil changes and keeps strap off the floor.
The optional light tower indicating machine status has been upgraded from 2 to 3-tier. A further upgrade adds audible signals to the visual alerts.
An electrically driven load stabilizer option is available to lightly compress and steady loads, between 49 and 110 inches tall, during the strapping process.
The system can be built with Allen Bradley or Siemens controllers as specified at time of order. They can both be configured as needed to manage anything from simple operator-actuated systems to fully automatic integrated end-of-line packaging processes. While pricing may vary, functionality is virtually identical.
Other electrical upgrades include brushless DC drives which add precision and reliability to indexing strap head and lance operation, while safety is enhanced by the elimination of high voltage AC componentry.
An ethernet connection port and AC outlet mounted on the surface of the electric panel eliminates the need for EAM-Mosca and trained user technicians to open the cabinet to access the program.
USI-2 SoniXs: What Applications Work Best?
USI-2 SoniXs is an extremely versatile strapping system that can be used to secure many different types of products and package configurations for internal transport, storage, and shipment. Perhaps the most common use is for securing pallet loads of rigid packaging including bulk loads of PET bottles, food and beverage cans, oil filters, and paper tubes, among others.
It is also an excellent choice for securing shipping units of just about any product or arrangement of products more than 20 inches tall. Examples include stacks of corrugated sheets and displays, securing corrugated packaging around cabinets and furniture, palletized HVAC equipment, drinking fountains, and similar products, and palletized stacks of just about any product packed in corrugated boxes. Boxed personal protective equipment and auto parts are examples of current customer applications.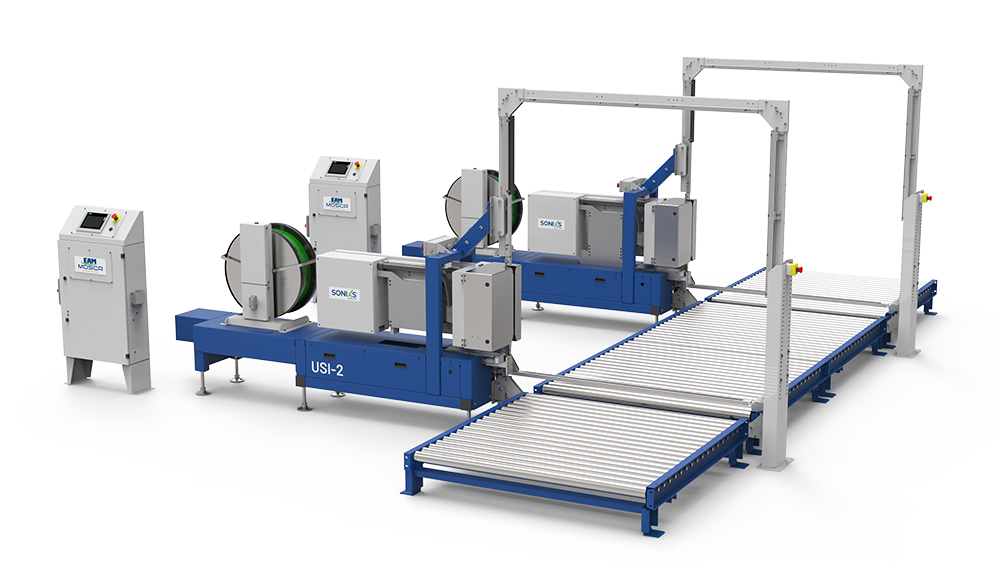 Automate Your Process
The USI-2 SoniXs deserves consideration as a means of automating manual packing processes for the types of products mentioned.
Two examples of situations where its predecessor was part of a system that automated a previously manual packing operation are an island system that secures special tool displays to be shipped to big box home improvement stores, and securing reworked boards that are used as part of a cheese-making process. If the package has a 20-inch minimum load height and at least one straight side for the head to index against, the USI design is a potential solution for load securement at the end of the packing line.
Strapping Options
USI-2 SoniXs can run with either PP or PET strapping. PP is an inexpensive strap that can provide a functional solution for lighter weight, stable loads. PET has superior resistance to elongation, stays tight, even in warm warehouses and during hot weather transport, and runs cleaner and extremely reliably in the machines. It is the more common choice in large track, shipping unit strapping applications.
USI-2 SoniXs is engineered with proven, superior performing components, versatile configurations, and flexible options that enable it to be built to fit seamlessly and without compromise into customer applications. Providing the best possible solution and supporting it over its working life is the focus of EAM-Mosca and the Mosca Group, worldwide.