EAM-Mosca Keeps Pace with Growing Packaging Demands
It is 2020 and the winds of change are blowing hard across packaging markets. E-commerce companies are focused on package security, customer convenience, sustainability, and of course cost. Brick and mortar retailers have similar goals and in addition, are pulling packaging suppliers into their supply chains to achieve fast, low waste, in-store product display. Strapping systems supplier EAM-Mosca Corp. is supporting these changes with new and updated strapping systems aligned with customer goals.
Corrugated packaging is a major component for both e-commerce and conventional retailers. It is also an important market for EAM-Mosca, who has expanded product offerings to support the evolving market requirements.
The Move to Smaller Boxes
E-commerce, now representing more than 10% of retail sales, is a major driver of packaging evolution. Amazon, as the leader of the pack, is setting the trends with their Frustration-Free Packaging (FFP) program for products that pass through Amazon facilities. The three-level program requires package security certification by the International Safe Transit Association (ISTA) for a core range of package sizes, reduced waste through their Ships In Own Container (SIOC) program and a third level focused on material recyclability and easy opening by customers. The net impacts of the protocols are increased numbers of smaller boxes that are closely matched to product size.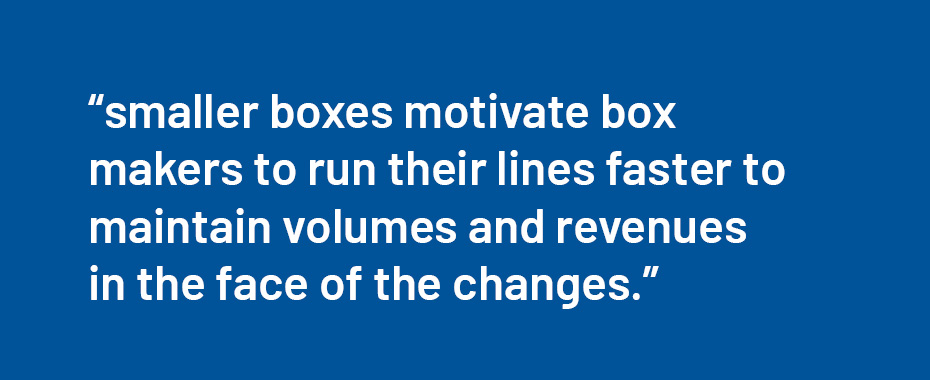 In turn smaller boxes motivate box makers to run their lines faster to maintain volumes and revenues in the face of the changes. EAM-Mosca has developed bundling solutions to efficiently handle the smaller products and higher speeds so that box producers can meet the new challenges productively. The Company's SQ4A series of squaring bundlers offers a small bundle option that enables effective squaring of box bundles as small as 7"x7". A single SQ4A can strap as many as 24 bundles per minute, adequate for many flexo lines. For the highest speed lines and for customers using techniques like bundle slitters and breakers to increase throughput, there is the SQ4A tandem which includes two strapping units in series with appropriate conveyor, bundle management sensors and software to effectively strap up to 36 bundles per minute. With many SQ4A-Tandem systems operating successfully throughout the Americas, it is truly the state of the art for high speed corrugated box bundling.
Retail and Shelf Ready Packaging
In the brick and mortar retail arena, the principles of minimizing packaging, reducing waste, simplifying shelf stocking and maximizing customer convenience, while providing a professional presentation, are increasing the use of Retail and Shelf Ready packaging as well as free-standing displays. These items, typically made on a specialty folder-gluer, require special consideration due to their unique designs and esthetic requirements. They normally exit the production process in a shingled stream, relying on an operator for stacking prior to securing into a bundle. EAM-Mosca offers two solutions that cover the range of customer requirements for these products.
The S-ATRS6-SoniXs®, the industry standard for many years, features an operator station with stacking table and squaring plates, a side seal strapper with backstop, side pusher and top compression. Electronic tension control provides sensitive and extremely consistent strap tension bundle after bundle, a necessity to avoid damaging the graphics on the package. While throughput is highly influenced by operator dexterity, speeds up to 15 bundles per minute are achievable. The combination of practical features and system cost make the S-ATRS6-SoniXs® a must see prior to investing in a strapping station for a specialty folder.
Operations requiring more sophistication should consider the Mosca UCB-SoniXs®. It features a removable bottom seal strapping machine in a CE certified framework. The bundler includes Mosca's standard precision closed strap track and adjustable electronic tension control for high reliability and product security without esthetic harm. Bundle transport is by top, bottom and side belts for exceptional control and gentle handling. Backstop is standard and a rear pusher for six-sided bundle control is optional. The base unit can perform automatic setups based on pre-loaded recipes. Automation via network communication is optional. In most cases, throughput will be dictated by operator dexterity, but the system is capable of securing up to 32 single strap bundles per minute.
Box Makers in the Supply Chain
EAM-Mosca has provided strapping solutions for special requirements where retail items are pre-loaded into displays and retail-ready packaging prior to shipping to the retailer. Applications have included box makers who filled displays in their own as well as customer locations, and manufacturers who require special packing lines for seasonal or promotional displays. EAM-Mosca offers a variety of top, bottom and side seal systems, all utilizing high performing SoniXs® strapping heads, suitable for pallet or slip sheet mounted shipping units. The Company can provide turnkey solutions or will work with customer chosen integrators. For products ranging from small cosmetic items to commercial power tools, the Company has provided custom systems that meet the need.

On-Demand Packaging
A growing segment of the corrugated packaging market that addresses the key issues of the times is on-demand packaging. It means that packagers start with z-fold or corrugated sheet, rather than a pre-made box. Product dimensions are programmed into a special machine that then cuts, scores and folds a box or wrapper from the sheet that "right-sizes" the package, minimizing volume and filler requirements while reducing packager box inventory and shipping costs. Often these packages require strapping for package completion and security reasons. EAM-Mosca's Evolution series strapping equipment provides excellent solutions for this application whether it is operator-assisted or fully automatic. Strappers progress from the economical ROM-F Fusion series of footswitch or sensor cycled machines to fully automatic ROMP6 and TR6 belt or roller conveyor based fully automatic machines. Both offer Mosca's long-lived dc brushless direct drives, electronic tension control, precision enclosed track system for unsurpassed feed reliability and SoniXs® ultra-sonic sealing system for high strength, emission-free strap sealing for millions of cycles.
Minimizing Strap Use
So far, the article has focused on corrugated packaging and how EAM-Mosca supports corrugated packaging producers and processing systems. In fact, the Company offers systems that strap innumerable different products of all shapes and sizes, from small bundles to large pallet and shipping units. Because of its industry leading strapping system technology, the company specializes in providing the minimum size strap necessary to meet the packaging requirement, as contrasted with competitors who often supply heavier than needed strapping to compensate for weaknesses in their equipment's feeding or sealing systems. A key competitive strategy for gaining market share against entrenched competition is to provide a demonstration with Mosca equipment and EAM-Mosca strapping to show how a lighter strap provides both a secure package and reliable operation while reducing customer costs. Certainly, minimizing the quantity of strap per package is a valid and important way to support the need to reduce plastic usage.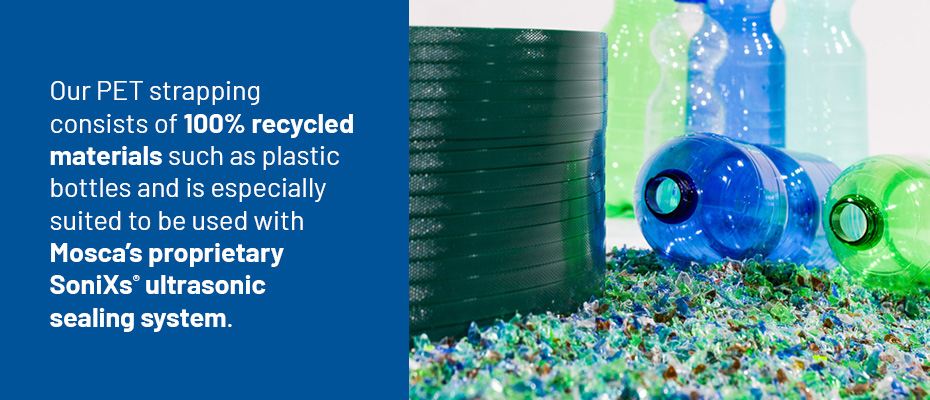 Recyclability
The fastest-growing segment of EAM-Mosca's strapping portfolio is its polyester strapping. Polyester strap is made virtually exclusively from recycled polyester, mostly PET bottle flake. Like pre and post- consumer waste, used PET strapping is recyclable many times because commercial technology is available that can restore it to near virgin quality. The Company's polypropylene (PP) strapping is made from virgin PP resin but is also recyclable after use. EAM-Mosca assists customers in their recycling efforts by providing data on the material content of the strapping, providing guidance on preparation of waste strapping to make it attractive to recyclers, and potentially by coordinating with customers in local markets to locate recycling businesses interested in the product. So, as opposed to some other plastic packaging materials, plastic strapping by no means has to be single-use. EAM-Mosca and many customers are able to recycle waste material, often at a price, so that it can be reused in a variety of applications.
The SoniXs®-PET Strap Combination
Finally, Mosca's unique SoniXs® ultra-sonic sealing system, which creates strong, emission free seals with both PP and PET strapping, is opening new applications to PET, the more sustainable strap. Most high-speed bundling equipment on the market uses a hot knife to heat seal the strapping. This method is effective on PP strap but has issues with PET due to both melting characteristics and potentially toxic fumes emitted during the sealing process. SoniXs®, which is powered only during the brief sealing cycle, is essentially emission-free with both strap types. This has enabled many EAM-Mosca customers to convert to PET straps on products formerly strapped with PP, gaining the benefits of higher feed reliability, lower maintenance requirements, and better retained strap tension. These gains can be achieved at a neutral cost level while avoiding the oil price-driven volatility of the PP resin market and delivering a more sustainable package.
Filling the Needs of a Changing Market
Whether the need is driven by changing requirements on a flexo or specialty folder gluer, a special system to create shipping units for pre-packed displays or retail/shelf-ready packs or an on-demand system, EAM-Mosca can provide an effective solution. And, customers can be assured that they can choose the best strap size and type for the job, to assist in minimizing cost and quantity of packaging used while optimizing recyclability and sustainability. As demanding as the evolving retail environment is, EAM-Mosca believes that the direction is positive and will work to support it with the best strapping systems available.
EAM-Mosca Corporation provides high-performance strapping system solutions to a variety of industries, including food, graphic arts, mailing, fulfillment, logistics, corrugated, wood, and other industrial or consumer goods. The company combines innovative equipment with strapping materials manufactured to maximize machine performance and customer support programs that help customers meet their performance and productivity goals.
To learn more about any of EAM-Mosca's other productivity enhancing strapping systems, please call 800-456-3420, or email info@eammosca.com. You can also connect with EAM-Mosca on YouTube, Twitter, LinkedIn, and Facebook via the links above.