EAM-Mosca Wins 14th Annual Curb Appeal Awards
CAN DO honors park tenants who beautify their properties during 14th annual Curb Appeal Awards
Published: 17 September 2021
CAN DO held its annual Curb Appeal Awards ceremony to recognize the tenants across its five business and industrial parks who dedicate time and attention to beautifying their properties through landscaping and grounds maintenance.
That dedication to property maintenance was especially evident Thursday when EAM-Mosca was named the overall winner during the 14th annual awards ceremony, which was held at, and sponsored by, the Residence Inn by Marriott hotel in Humboldt Station.
Longtime EAM-Mosca employee Robert J. Rayno handles all of the company's landscaping work in addition to his duties as an employee at the machine manufacturing company in Valmont Industrial Park.
For more than 20 years, Rayno has spent countless hours – often on evenings and weekends – trimming shrubs, mowing grass, weeding, as well as mulching and edging the flower beds across approximately five acres of ground at the company's facility.
When asked why he dedicates so much time doing landscaping on top of his general duties at the company, the humble Rayno simply said, "to keep it nice."
However, EAM-Mosca President & CEO Jan Wessel had a lot more to say about the pride Rayno takes in his job and how it impacts the company.
"Robert is always out there working. It's a standard he's always kept up for us. When he's done with his regular work, he's out there trimming, weeding, shoveling snow, and doing everything he can for us. It reflects who we want to be for us and all our team members and represents who we are as a company."
Curb Appeal Awards are presented in the categories of Companies with Under 100 Employees, Companies with More Than 100 Employees, Commercial Service companies, and Commercial – Hotels, Restaurants, and Retail.
In addition to EAM-Mosca's overall victory, the company was named the winner in the More Than 100 Employees category for Valmont Industrial Park.
The awards ceremony gives CAN DO the chance to recognize the park tenants as well as the landscaping company or individual who completed the work.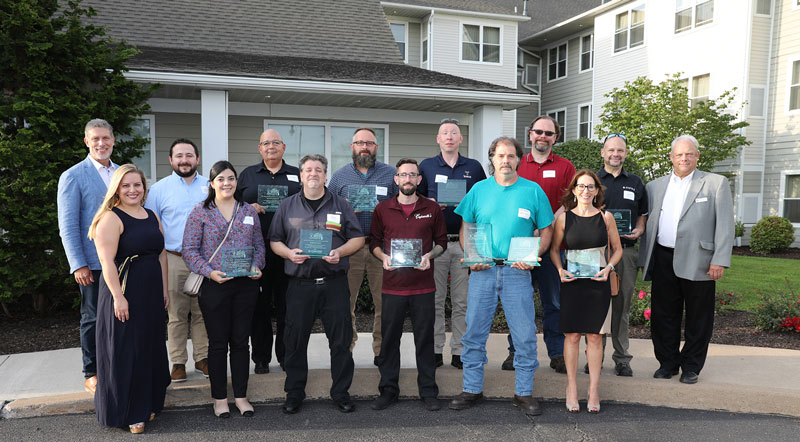 Johns Manville (MCD), The Hershey Company (Steve's Landscaping), IRIS USA (Meadow Landscaping), PFNonwovens (Nause Landscaping), Tosca, LTD (Mike Winder Landscaping), US Cold Storage (J & S Landscaping), Capriotti's Palazzo (employee Daniel Raymond), Hazleton Area Academy of Sciences (Hazleton Area Academy of Sciences Maintenance Department members Michael Kraynak, Dave Molinaro, Scott Krayeski, Edward Craver and Patricia Pahler), Burger King (Walko's Landscaping), and PPL (Meadow Landscaping) also received Curb Appeal Awards.
CAN DO President & CEO Joseph Lettiere said, "On behalf of everyone at CAN DO, I'd like to congratulate all of the winners and commend them for their dedication in maintaining such immaculate facilities. Since this program began 14 years ago, we've consistently discovered that having companies who put in the time and effort to make their grounds beautiful has played a significant role in helping us attract new companies to the Hazleton Area."
CAN DO Curb Appeal Awards committee co-chairs Barbara Cassise and Sherri Homanko served as award judges.
Award sponsors are: Eddie's Lawn Care, Walko's Landscaping, Nause Landscaping, Vitos Lawn Care, and LOR-MAR Mechanical Services. Door Prize sponsors are: Best Cigar Pub, Edgewood by Sand Springs, Frankie's Pizzeria, Sand Springs Country Club, and The Pines Eatery and Spirits.
Original Post: https://hazletoncando.com/news/news/868-can-do-honors-park-tenants-who-beautify-their-properties-during-14th-annual-curb-appeal-awards