EAM-Mosca's New Max-Q: Bundling Reinvented
EAM-Mosca Corporation is excited to announce the introduction of their newest strapping system, the Max-Q.
Well known for the highly successful SQ4A Tandem System, EAM-Mosca's new MAX-Q reinvents the conventional Tandem System by combining proven technologies with new designs and product handling.
As box production speeds and bundle counts continue to increase, particularly on two-up stacks of small boxes produced by box slitters or bundle breakers, EAM-Mosca looked for a way to increase bundle throughput without loss of performance or reliability.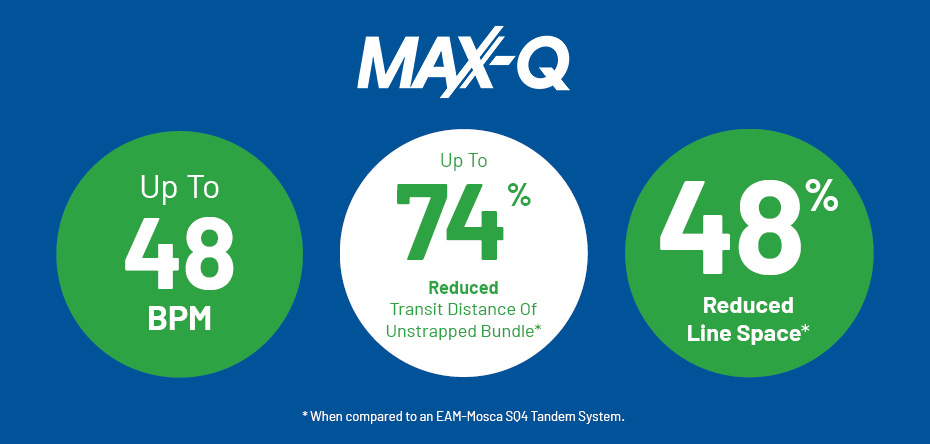 The new system integrates two strappers whose position can be varied inside a fixed-length chassis to align with the strap-to-strap distance of adjoining bundles. This unique design allows it to strap two bundles simultaneously without separating the bundle after slitting. By simultaneously strapping, the MAX-Q increases bundle throughputs by 48% from 32 per minute in the current industry-leading SQ4A Tandem System to 48 per minute.
Beyond the throughput benefits outlined above, the system also improves bundle handling integrity. Unstrapped bundle travel is reduced by as much as 74% when running smaller bundles. In addition, the need for bundle pacing to create separation, required for current systems, is eliminated. With that requirement removed, also gone are the momentum changes that contribute to bundle shifting. Bundle shifting demands slower run speeds and contributes to unplanned downtime. Both benefits enhance overall bundle integrity in such a meaningful way to allow for higher bundle counts and consequently even additional throughput potential.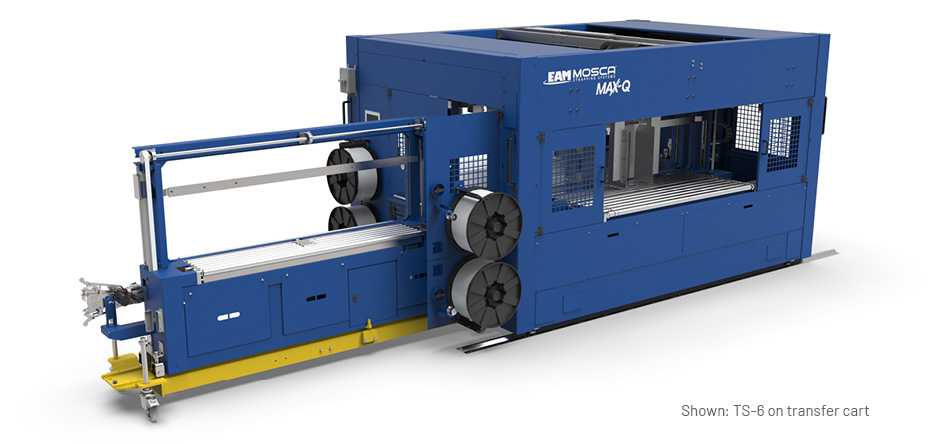 The MAX-Q features an innovative, patent-pending variable-length roller conveyor that enables a 48% reduction in line space compared to the SQ4A Tandem System, from 160.8" to only 83.6". The space-saving shorter footprint simplifies the high-speed conveying of unstable small box bundles that complicates conventional bundling systems.
The unique simultaneous strapping feature allows the MAX-Q to strap twin bundles as short as 7" each (produced from a single 14" bundle before slitting) and as long as 25" each (produced from a single 50" bundle before slitting). The maximum one-up bundle length for centered straps is 40" with maximum widths of 56" with squaring and 63" without squaring. Larger boxes in one-up bundles are typically strapped by the downstream strapper, with the upstream unit on standby in the event of technical issues. In this case, the system can strap up to 24 single bundles per minute. System setups are fast, convenient, and performed by operator input or data transfer from the flexo or upstream control system.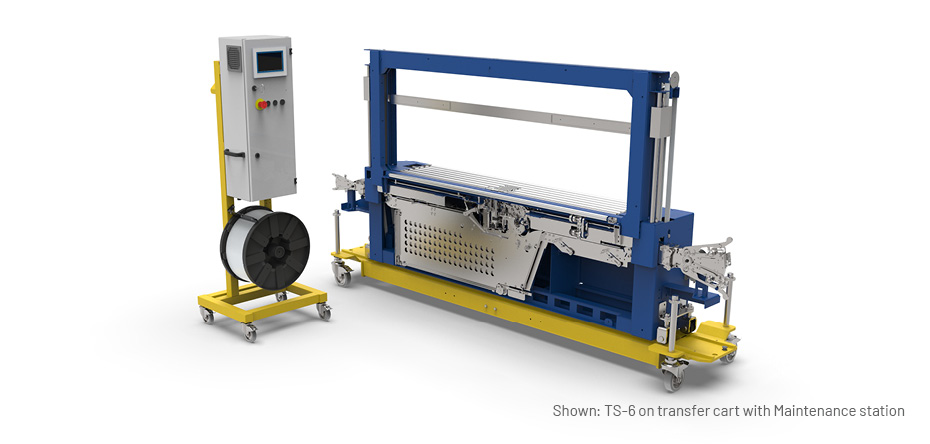 The Max-Q can be configured in left or right-hand versions and features the highly successful Mosca SoniXs® Series 6 sealer and strap track found in the SQ4A Tandem System. The standard system includes three strappers, two active units, and a spare, along with two transfer carts to provide fast, convenient bundler removal and insertion in under 5 minutes for maximum uptime with convenient offline storage. Due to the new bi-directional accumulator, each strapper is interchangeable and can be placed in either the up or downstream position within the Max-Q chassis. Dual dispensers with automatic coil changers come standard, and a portable maintenance station provides the ability to perform strapper maintenance remotely.
EAM-Mosca's innovative Max-Q brings the next generation of bundling systems to the corrugated industry, enabling box makers to take full advantage of faster flexos and bundle splitters in response to increased demand for smaller boxes.
Combining proven strapping technology with new innovative designs shows why EAM-Mosca Corporation is the technology leader in strapping and end-of-line packaging systems.
Chat to a machine expert online, or contact your local sales rep to find out more.