Experiencing Slow Production Lines? We Can Help
The sooner you can get products shipped out the door, the faster they can get into the hands of happy customers. That's the primary point of manufacturing; providing a product for profit in a timely manner. An inefficient production line, coupled with social distancing recommendations during our current pandemic, can wreak havoc on productivity and profits. Inconsistent production lines can inhibit customer satisfaction and encourage them to seek more reliable suppliers. Studies have consistently shown that unproductive operations on average, can create a 15% decrease in manufacturing capacity and consequently reduced profit margins.
When bottlenecks occur, production schedules are disrupted and shipments are inevitably delayed. Understanding the benefits of high-speed manufacturing and the potential causes of slower production line speeds can help your business become more efficient and more profitable.

The Benefits of Maximizing Your Production Line Output
For some, diminished capacity as a result of production line slowdowns are accepted as a natural part of doing business. Since many causes of line slowdowns are small, ongoing or difficult to pinpoint, production line managers and business owners often accept delays. When there's a major disruption that interferes with a production line, forces are mobilized and management takes action. But the smaller, day-to-day concerns often remain unaddressed.
Although a small problem might not seem like a cause for concern, if it continues or is coupled with additional smaller issues, it can create considerable production delays. There are many reasons why it pays to determine the root causes of inefficiencies and focus on finding ways to increase production capacity:
Increased ROI: Your company is likely receiving and turning out enough orders to earn a profit, but finding ways to increase production capacity can lead to a boost in profitability. If your current profit margins are thin, even a small increase in productivity can improve them.
Increased customer satisfaction: Shipment delays can cause your clients' production schedules to fall behind. The faster you get your products off the production line and to your customers, the happier they will be and the more likely it is that you'll become a preferred supplier.
Minimize the risk of error: Miscommunication and equipment failure are two common causes of errors in manufacturing operations. Establishing a process and confirming that everyone involved completely understands and follows the process will help minimize mistakes.
Reduced wear and tear on equipment: The smoother and more efficient your company's operation, the less strain there will be on your manufacturing equipment. Predictable operational performance that meets the production schedule, means that planned maintenance schedules are executed and not skipped over to make up for lost production.
Five Causes of Slow Speed Lines
Part of understanding how production capacity can be increased is a thoughtful consideration of why.
1. Workflow Anomalies
Examine the ways your products move from Point A to Point B. Do they travel from machine to machine by way of a conveyor, or does a person have to unload them from one piece of equipment and transport them to the next?
If someone is manually moving products, installing conveyors between machines will help to speed up the process. Redesigning the plant layout to minimize the amount of time it takes to move WIP through the manufacturing process can be extremely beneficial. Now might be an ideal time to think about how your plant layout works.
2. Insufficient Maintenance
Regular equipment maintenance and care will keep your facility's machinery in working order for many years. Even with ongoing care, machinery is subject to wear and tear. The greater the wear and tear on equipment, the greater the risk of breakdowns. When a piece of machinery breaks down, it can cause significant delays to the production line. Your team might have to scramble to replace the faulty piece of equipment or might need to hold off on production until the machine can be fixed.
Fortunately, there are ways to minimize wear and tear, fix, or replace equipment before it becomes defective. Software programs can monitor machinery, ensuring it is properly calibrated and ready for use. Implementing a regular maintenance, repair, and replacement schedule will also help to ensure your facility's equipment remains in the best working order.  You can use statistical models and data to predict when a piece of equipment is likely to reach the end of its usable life or is due for maintenance.
Using machinery properly is another way to minimize wear and tear. Educating your team and ensuring everyone is on the same page regarding the safe and effective operation of each piece of machinery will reduce slowdowns on the production line.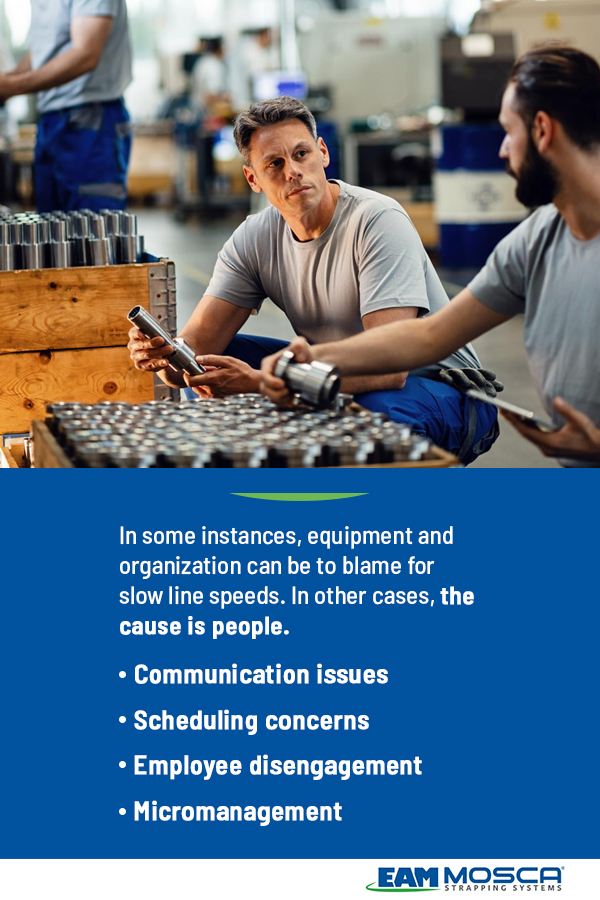 3. Poor Factory Management
In some instances, equipment and organization can be to blame for slow line speeds. In other cases, the cause is people. Specifically, management problems can interfere with a facility's productivity. Some examples of management issues that should be resolved to improve productivity include:
Communication issues: Communication is vital to the success of any company. It's particularly important when your business is trying to maintain a production schedule and boost its productivity. A lack of communication between supervisors, upper-level managers, and people working on the facility floor can lead to delays and interfere with the quality of the products produced. One way to correct communication concerns is to develop a system for reporting and sharing information. Who should they tell if there is an issue with a piece of equipment?
Scheduling concerns: Employee schedules are another management issue that can often be overlooked. Having too many people working during one shift can be just as challenging for productivity as having too few people on a second or third shift. Management should work together to find a way to staff a facility most effectively and efficiently so everyone's skills and talents are well-used during their scheduled work time.
Employee disengagement: Poor management styles and methods can cause employees to disconnect and disengage from their work. When team members disengage, they don't care about the company's products or goals. They may begin coming to work simply to collect a paycheck. Creating programs to encourage employee engagement, such as reward programs for the shifts or teams that produce the greatest volume of product during a week or month, will help employees feel connected to their work and increase overall productivity.
Micromanagement: Part of being an excellent leader is recognizing that your team is competent and capable. Micromanaging overlooks the fact that people can do their work without ongoing, intense supervision. Although it may seem counterintuitive, insisting on managing every aspect of your team's work and behavior can lead to a drop in productivity and a slowdown on the production line. If you or other supervisors tend to micromanage, try to take a step back and trust that your team members will get the work done. Resisting the urge to micromanage can also help increase engagement among your team, leading to an even greater productivity boost. 
4. Unplanned Maintenance Stops
While wear and tear on machines and aging machines can lead to a gradual decrease in production speed, unplanned maintenance or downtime can lead to a sudden drop in speed. In many cases, unplanned downtime can cause production to come to a grinding halt. 
For example, if a machine breaks down suddenly and needs repair, production needs to come to a temporary stop. Depending on how long the repair or replacement takes, it can be hours, days or weeks before the machine is up and running again. The machine and facility can't just pick up where they left off. They also need to make up for lost time and product backlog. The slowdown can create a bottleneck that has long-lasting effects on the facility's productivity. 
Ongoing inspections and preventative maintenance are essential if your goal is to minimize or eliminate unplanned downtime. When selecting your machinery and equipment, it's worthwhile to choose a company that provides ongoing service and is committed to making sure your equipment continues to work efficiently and effectively — whether it's day one or thousands of days later.
5. Poor Quality End-of-Line Packaging Machinery
The equipment you install in your facility plays a significant role in the quality of the products you produce and the efficiency of your production line. It is important to be mindful of the fact that lower quality, poorly engineered equipment is typically not the best choice and will be more expensive in the long run. For example, the true cost of a lower quality strapping system becomes evident when an entire plant, or work area of a plant is shut down because the system is unreliable.
Choose the correct machine for the application at hand. Things to consider when selecting a strapping machine:
Process and required output volume determines machine type. Strapping machines are available in walk-up, operator cycled, entry-level models; in-line, operator cycled; and in-line fully automatic with several choices in options to facilitate product and load handling.
Product weight determines strap width and break-strength needed to safely contain the product, as well as what type of conveyor if required.
Product size will dictate the arch size of a strapping machine.
Product shape and production line will factor in the type of seal placement required – bottom-seal, side-seal, indexing head.
Special handling needs determine what options may be required on the machine – i.e., compression for carton closing, side-pushers or backstop for square and more secure bundles
EAM-Mosca Corporation produces a variety of strapping machines, from operator-cycled machines designed for seasonal use to fully integrated and automatic systems, most of which feature Mosca's Sonixs® Sealing Technology. Replacing older, less-efficient strapping machines with newer, higher quality models will help to improve production line speeds and boost your facility's production capacity. The correct strapping machine for your facility can help improve production speeds and reduce the need for re-packaging. Choosing the right machine can also help you maximize your employees' skills, with automation, rather than having them manually operate equipment. Using a strapping machine designed for your product volume will also help to minimize damage by reducing the chance of strap failure.

EAM-Mosca Corporation Can Help You Improve Production Line Speed
If you're ready to increase production capacity and get your products into your customer's hands more reliably, look at including strapping machines and conveyors in your end-of-line process. We can work with you to create a fully customized solution depending on your specific needs, Contact us today for more details.
About
EAM-Mosca Corporation provides high-performance strapping system solutions to a variety of industries, including food, graphic arts, mailing, fulfillment, logistics, corrugated, wood, and other industrial or consumer goods. The company combines innovative equipment with strapping materials manufactured to maximize machine performance, and customer support programs that help customers meet their performance and productivity goals.
To learn more about any of EAM-Mosca's other productivity enhancing strapping systems, please call 800-456-3420, or email info@eammosca.com. You can also connect with EAM-Mosca on YouTube, Twitter, LinkedIn and Facebook via the links above.