How To Select the Right Strapping System for Fabricated Wood Products
If you are looking to install, upgrade or automate a strapping system, EAM-Mosca, the strapping industry technology leader and installer of over 35,000 systems across the Americas, can help. Working through the questions below can guide purchasers to make the best selection of system features for strapping a range of wood products including components like stakes, flooring, and molding as well as finished products like doors, windows, cabinets, and furniture.
Bottom or Side seal?
There are two common machine configurations used to strap wood products: bottom seal and side seal. Smaller bottom sealers from operator cycled to fully automated models are used for bundling and carton closing applications. Larger tabletop units are used to strap products like oversized windows and doors that are transported through the packing process horizontally. Finally, large, bottom seal shipping unit strapping systems are a practical solution for free-standing products whose edge location varies relative to the conveyor rail and for products with irregular sides that prevent proper strap tensioning by side-mounted strapping heads.
Side sealers are the better choice when products are conveyed along a conveyor rail with a side that is accessible to the vertically mounted strapping head. Some side seal models have indexing heads that can reach out 12-18 inches to contact the side of the product to assure tight straps. Side sealers have higher minimum load heights than horizontal machines. Their head position provides convenient access to cleaning and servicing.
Side sealers are the obvious choice for products like some windows and doors that are packed in a vertical position. EAM-Mosca's UHS-2-SoniXs side sealer will tilt up to 20 degrees to fit smoothly into easel-style packing processes.
In all cases be sure to compare conveyor height, product size range, and product position on the conveyor to the capabilities of the models under consideration.
Pallet Considerations
If the product is not palletized or strapping through a pallet void is not required, a full track bottom or side seal unit will do the job. If strapping through a pallet is required, look for a side seal machine with a pallet lance. Models with the optional capability to strap through or under a pallet based on sensor readings are available. For reference, check out the EAM-Mosca USI SoniXs with an indexing, high-tension strapping head, through or under pallet strapping capability, and a variety of options to adapt it to meet specific application requirements.
Automation Requirements
Strapping systems are extremely versatile on the automation front. EAM-Mosca can outfit most of its models with a range of automation from an operator-activated footswitch or pushbutton control, and sensors that place a strap when tripped, to fully automatic operation that positions straps based on in-line size measurement or data imported from an upstream control system. Define your requirements including throughput rate and make sure the unit chosen can meet the spec.
Strap Choices
Choosing the right strap for the application has both economic and package security implications. The goal is to select the strap with the right strength and load control characteristics and be sure the chosen machine can operate reliably with that strap.
Polypropylene (PP) strap is an economical strapping that is commonly used in bundling and lighter-duty applications. Polyester (PET) strapping is slightly more expensive but resists elongation, maintains tension better than PP, runs cleaner and more reliably in strapping machines, and is made predominantly from recycled materials. PP is often sealed using a hot blade heat seal. Hot blades are not recommended for PET due to the harmful smoke given off during the process, so PET is sealed using a friction or ultra-sonic process. Mosca's SoniXs ultra-sonic sealing system, available on models from bundlers to large systems, seals both PP and PET interchangeably, offering strap choice flexibility to Mosca customers.
Application Examples And Solutions
Here are a few application examples and solutions that may help clarify choices and decision-making:
Wood Stakes/Moldings:
A wood stake manufacturer chose a Mosca ROMS-6 SoniXs side sealer with special table height, high tension option, and 9mm PP strapping to secure bundles of stakes.
Smaller wood molding customers should consider using the operator-controlled ROMP6-SoniXs where the product moves through the strapping station lengthwise.
More automated companies could take advantage of Mosca's specialty ROM-RI retractable arch machines to strap bundles that move width-wise through an automated bundling process using lightweight PP strapping.
Flooring:
Wood flooring manufacturers' choices vary from operator cycled ROMP-6 SoniXs for lower volumes to ROMP-6B or 6R SoniXs (powered belt or roller conveyor), fully automatic units for higher throughput requirements.
Norton Smith Hardwoods chose the operator cycled ROM-Fusion to strap lengths of wood flooring for their low-volume production line. 
Cabinetry:
Numerous cabinet manufacturers are using larger arch Mosca ROMS-6 SoniXs side seal machines to strap a wide range of cabinets, with operations varying from operator cycled to fully automatic. Most use 12mm PP strapping to secure boxes or corrugated wrappers on the product. However, several have converted from PP to PET strap to prevent strap tension loss during storage and transport which led to instances of product damage and a poor product presentation on delivery.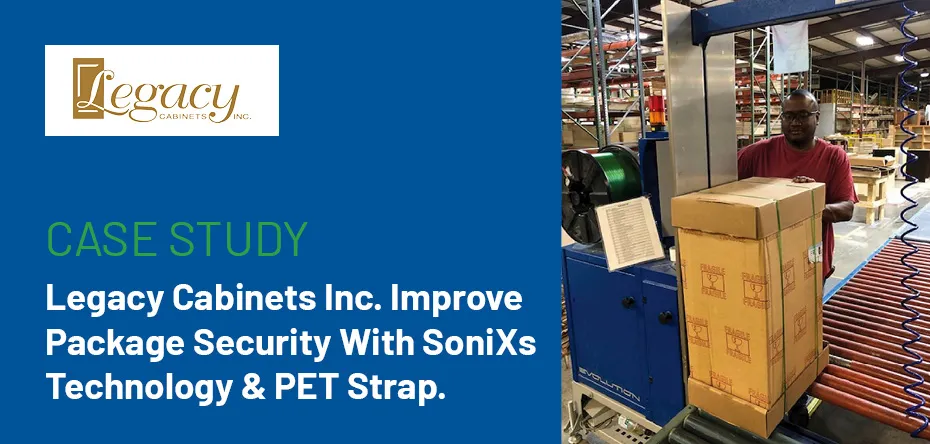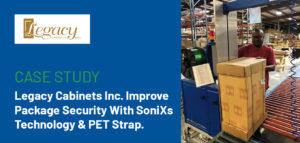 Windows and Doors:
Standard window and door lines that pack vertically use the Mosca UHS-2 SoniXs side seal with a tiltable track system to align the strapping operation with the assembly and packing process. 12mm PP strap is a common strapping material.
Architectural and storm-resistant door and window products are more commonly packed horizontally. The Mosca ROMC-6 SoniXs is a great solution with track widths up to 2600 mm to accommodate even the largest products. These heavier products benefit from the operating reliability and holding power of an 11mm wide PET strap.
Furniture:
ROMS-6 SoniXs is also a popular solution for many office furniture makers. The wide range of track widths and heights makes it a versatile solution for all types of furniture. Several customers have converted their SoniXs strappers from 12mm PP to 11mm PET strap to get the benefits of higher process reliability, cleaner operation, and a more secure package.
By reviewing these application variables and solution examples, strapping system buyers in the wood products industries should be able to confidently specify a strapping machine configuration that is optimal for their operation. That leaves the assessment of quality, price, delivery and after-sales service still to be done, but it is the right first step.