Preventive Maintenance Essentials: Simple Steps To Optimizing Your Bundlers Performance
Mosca bundlers have been regularly refined and updated over the company's 50-plus year history. The current Generation 6 models are our best ever in terms of simplicity, longevity, and reliability. History has proven that a regular regimen of cleaning and inspection with periodic planned maintenance provides the best path to excellent operating reliability for many millions of cycles. A program of consistent cleaning and inspection prevents dirt and dust buildup that can affect feed reliability and accelerate component wear. Our recommended care and maintenance scheme to achieve exceptional reliability and longevity is outlined below.
When doing any maintenance tasks, always wear appropriate PPE and follow lockout tagout procedures to immobilize electrically and pneumatically driven machine elements.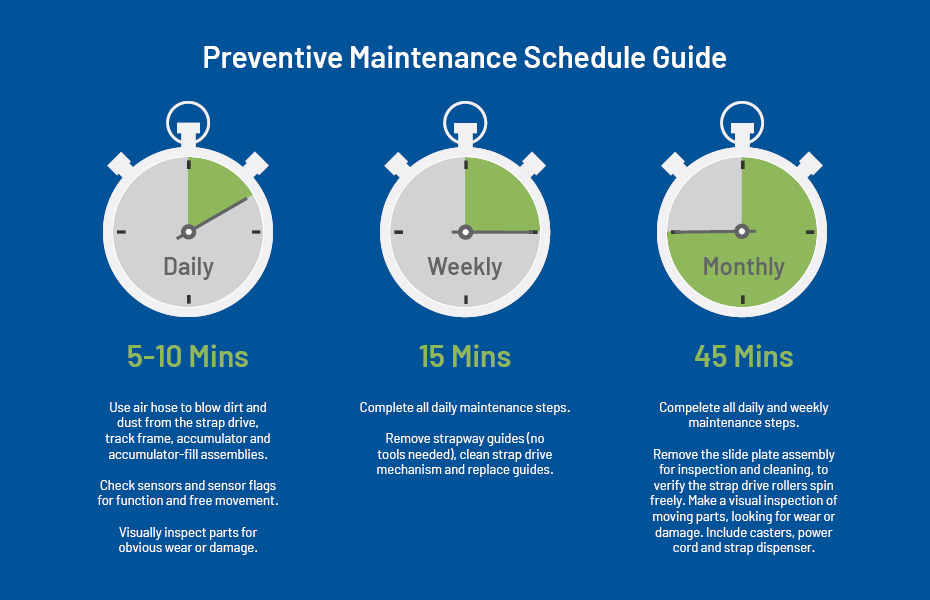 Daily Maintenance
Daily or per shift cleaning (5-10 minutes) includes using an air hose to blow dirt and dust from the strap drive, track frame, accumulator, and accumulator-fill assemblies. Check sensors and sensor flags for function and free movement. During cleaning, visually inspect parts for obvious wear or damage.
Weekly Maintenance
Weekly maintenance (15 minutes) follows the same routine but includes removing strapway guides (no tools needed), cleaning the strap drive mechanism, and replacing guides.
Monthly Maintenance
Monthly maintenance (30-45 minutes) builds on the weekly actions and adds removing the slide plate assembly for inspection and cleaning, verifying that the strap drive rollers spin freely, and making a visual inspection of moving parts, looking for wear or damage. Include casters, power cord, and strap dispenser.
Quarterly Maintenance
On a quarterly schedule, perform the monthly review tasks, and add disassembly, cleaning, and reassembly of the strap drive and slide plate assemblies (90 minutes).
Longer-term, we recommend committing to a regular Preventive Maintenance (PM) program for ongoing superior performance. As a starting point, we suggest a detailed check at 500,000 cycles. This may be adjusted up or down depending on day-to-day care, operational demands, and experience. The PM work should be done by a trained company technician or an EAM-Mosca Service Technician. It includes a thorough review of all working areas of the machine and replacement of known wear items as they approach the end of their expected life, but prior to failure. While some companies see this as raising part costs, when the cost of unplanned downtime due to parts failure is factored in, we believe the process optimizes maintenance costs and maximizes productivity.
Our track record on over 30,000 Mosca bundlers gives us confidence that consistent execution of this straightforward and relatively low-cost maintenance routine provides assurance of exceptional reliability and long equipment life. Innovations like dc brushless direct drives replacing mechanical transmissions, our proprietary MSCB1 control board replacing individual motor controllers and our super reliable SoniXs ultrasonic sealing system provide exceptional consistency and reliability. Combined with strong training programs, responsive field service support, and a true customer-first ethic, we believe that Mosca products offer a unique value to strap users. Our top-tier customer base and the Mosca bundlers that we continue to service with more than 25 million operating cycles attest to our claim.