The Mosca Difference: Learn Why We're Committed To Superior Performance, Innovation, And Customer Satisfaction
Strapping and securing packages is the final step in the production line, and often also the last thing producers think about when building their production processes. Smart buyers, however, should recognize the impact an effective strapping system can have on process productivity and learn about the options available to them to optimize their decisions. At EAM‐Mosca, we offer a unique approach, aiming to provide superior solutions to customer package securing, bundling, and unitizing requirements, often with a lower total cost of ownership.
EAM‐Mosca is a machine based, performance‐driven supplier selective in the markets we serve, to bring products and services that offer unique advantages to customers. We believe that several areas set Mosca apart from the competition, and refer to it as the Mosca Difference.
A History of Technical Innovation and Leadership
Having been in the strapping system business for over fifty years, Mosca has contributed many innovations that have advanced the speed, reliability, precision, versatility, and longevity of strapping processes and equipment. Some of our significant innovations include:
Precision enclosed strap feed tracks that enable efficient use of lightweight straps in high‐speed applications.
Using DC brushless motor based direct drives to eliminate mechanical transmission systems. This reduces maintenance and noise while increasing precision and control of the strapping cycle.
Sonixs ultrasonic strap sealing, which simplifies sealing mechanics, reduces emissions and power consumption and seals both PP and PET strapping with equal effectiveness.
Offering PET strap on 8‐inch coils to use in conjunction with Mosca's Sonixs ultrasonic sealing system for smaller high‐speed strapping equipment. Providing customers with measurable improvement in operating performance and package security.
Using innovation to optimize customers productivity
Staying connected and partnering with our customers provides us an opportunity to continuously learn and improve our product line for present and future market needs. This commitment and focus have allowed us to demonstrate the positives of using Mosca's proprietary Sonixs ultrasonic sealing technology.

During multiple real plant studies, Sonixs ultrasonic sealing systems offered a working life several times more than conventional heat seal or friction weld systems. For Sonixs systems, life spans of 5 million cycles or more are standard, and the reason why it has claimed a higher share of Mosca machine sales each year since its introduction and with a wide availability across all our machine offerings and industries.
Many customers are experiencing the positive impact Sonixs technology is having on their production. Recently, we worked with a knocked down furniture manufacturer that faced conflicting requirements from its customers. Some customers specified PP strap, while others required PET on the finished product. Fortunately, with Mosca Sonixs, this is not an issue and the manufacturer purchased a machine engineered with a simple switch that automatically changes parameters to match the requirements of the strap on the machine. Currently, we are the only strapping company that offers a single machine which can operate with both strap types and lighter weight PET on smaller 8‐inch coils, to run on smaller high‐speed strapping units.
Full System Performance Focus
EAM‐Mosca is not the biggest company in the strapping market, but this should not be seen as a disadvantage. We are a full‐service supplier that designs and manufactures our own equipment and strapping, providing factory service and parts throughout the US, Canada, Mexico, Central and South America, and the Caribbean. By focusing on being the best in the markets we serve, we can concentrate on innovation and optimized performance for our growing customer base.

With our full system performance focus, many relationships start with a plant survey and no‐charge trial but develop into customer‐supplier partnerships. We supply the complete product and support program our customers need to maintain superior strapping system performance over the system's working life. Read on to hear how some of our customers have experienced the value of the Mosca difference.
Pharmaceutical distributor success
Daily packing and shipping for overnight deliveries to retail pharmacies proved difficult with unreliable strapping systems that secured totes for shipment. Surprisingly, shift supervisors were required to camp out at the strappers to react to continually recurring strapping problems, resulting in a neglect of their other duties. However, converting to Mosca equipment and strapping materials has freed personnel to do their assigned tasks while improving throughput and delivery performance. Our commitment to provide superior solutions enabled a significant improvement in performance and reliability. EAM‐Mosca has become the supplier to over 20 distribution centers Corporate‐wide.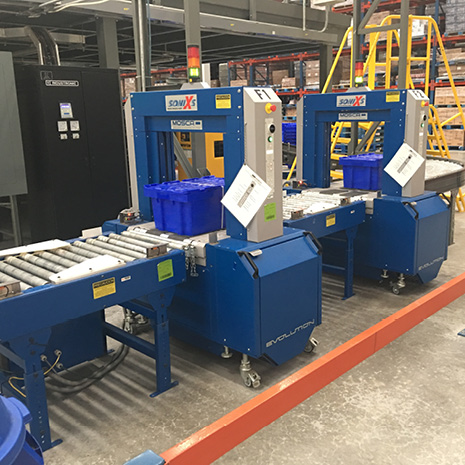 OXXO Convenience store chain success
OXXO, a convenience store chain in Mexico, wanted to increase tote throughput from the hand‐applied cable ties that it was using. After a plant survey, EAM‐Mosca de Mexico installed fully automatic strapping equipment that reliably increased the speed of the operation. When the customer requested an increase to two straps per tote for greater security, a tandem system was developed with two strapping machines and a conveyor. This system managed the flow of the totes and controls to accurately place the two straps in narrow slots on the tote lids. The controls also included the ability of either machine to automatically take over the entire process in the event of a fault on the other unit, providing additional downtime avoidance protection. From a single installation, the partnership has grown to multiple locations and well over 100 machines across the customer footprint.
Plastic container manufacturer success
A well-known plastic container manufacturer was dissatisfied with the performance of its competitor strappers that tied boxed laundry detergent bottles into units for shipment to fillers. Starting with a single machine on a performance trial, they switched to using Mosca equipment, reduced the size and cost of strapping used (from 6mm to 5mm wide), and achieved a 75% reduction in downtime and maintenance as they converted more than twenty competitor packaging lines to Mosca systems. After converting three other similar plants, they asked EAM‐Mosca to work with them to improve their bulk PET bottle packaging operations that suffered from reliability and strap tension variability issues. By partnering to understand the subtleties of their operation, and designing to meet their specific needs, EAM‐Mosca developed a unique solution with an innovative tension management system that is now replacing poor performing equipment in multiple plants.
Designing solutions to fit specific applications
A strapping systems performance can be easily compromised by merely dropping a standard machine into a process that isn't fully understood. As part of the Mosca difference, EAM‐Mosca field engineers are trained to do an in‐depth analysis for a complete understanding of customer processes, to tailor solutions for the highest performance. In addition, we believe that every potential customer deserves the opportunity to optimize their end‐of‐line processes, no matter how large or small that company may be.
An excellent example of this was when an office furniture maker asked EAM‐Mosca to find a better way to seal boxes of parts than the gummed paper tape system they were using. Line speed and variable package sizes made the operator cycled tape machines a poor solution. After a site survey and analysis, a Mosca ROMP6‐Sonixs operator cycled tabletop strapping machine was suggested. Particular adaptations included a ball top roller table to allow boxes to easily rotate for cross strapping and a "ready" light to tell operators, often inexperienced temporary workers, when the cycle was complete and ok to push the box down the line.
Environmental responsibility
As a supplier of plastic packaging materials, EAM‐Mosca is mindful of our environmental responsibilities. Our goal is to promote the legitimate benefits of our products while minimizing the potential damage it can cause through waste and misuse. Our environmental goals include:
Designing and building equipment that is highly utility‐efficient, including the use of DC brushless direct drives, which only use power during the strapping
Providing a reliable sealing system (Sonixs technology) with precision strap tracks that enable Mosca equipment to operate with minimal waste using the lightest possible straps needed to strap the product.
Making our PET strapping from recycled materials, and assisting customers in their efforts at recycling both PET and PP after use, including providing data on strap content, advice on preparation to enhance recyclability, and helping locate local recyclers.
Adapting our solutions to changing market needs by increasing processing speeds, improving the handling of smaller e‐commerce parcel packaging, and providing economic systems to bundle resource‐efficient retail, shelf‐ready, and on‐demand packaging.
Enabling customers to switch to lighter and more recyclable packaging practices across a range of markets.
Offering sustainable PET strap on 8‐inch coils to use in conjunction with Mosca's Sonixs ultrasonic sealing system in smaller high‐speed strapping equipment. Currently, we are the only manufacturer that offers this solution.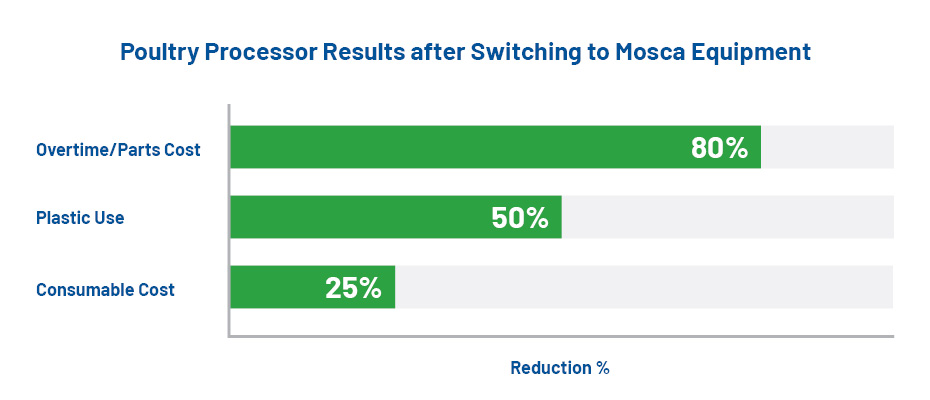 One customer who saw the benefit of our commitment to environmental responsibility was a well‐ known poultry processor who had trouble completing daily production runs without extensive overtime. In addition, their various parts replacements on competitor strappers were driving up maintenance costs. EAM‐Mosca supplied replacement automated strapping systems, which drastically reduced overtime and cut parts costs by about 80%. As confidence in the systems became established, the company successfully reduced strap width from 9mm to 6mm and ultimately to 5mm PP strap, cutting plastic use by almost 50% and consumable costs by 25%. Since the initial success, seven other of the company's processing plants have converted to Mosca with similar results.
Committed to superior performance and customer satisfaction
The worldwide Mosca group is privately owned and driven by building enduring performance‐based relationships with customers and other stakeholders, as the basis for long term company health and prosperity.
From the customer standpoint, this means we prioritize product and service performance to earn and maintain customer satisfaction and preference for Mosca as their "end‐of‐line" packaging system supplier.
Most of the examples cited above started with Mosca as an unknown supplier, demonstrating our capability through thoughtful, in‐depth analysis and plant surveys with one machine trial on a single line in a single plant. Then through proven performance, a supplier‐customer partnership, with systems in multiple plants across the customer's operational footprint.
EAM‐Mosca takes an honest and insightful approach to understanding and solving customer strapping problems and works hard to establish and maintain successful long term partnerships. This goal of building long term relationships based on trust, respect, and meeting commitments extends to other stakeholders, including employees and suppliers as well. We work every day to live up to our goal of providing excellence in strapping solutions.
If you would like to work with us to find a solution for your end‐of‐line production, contact us today by calling 570‐459‐3426 or emailing us info@eammosca.com. Alternatively, fill out a contact form on our website, and one of our representatives will get back to you shortly.