Delivering Excellent Machine Performance With Premium Strapping Materials
EAM-Mosca promises the best machine performance when running our premium strapping. By only producing machine-grade strap we can focus on controlling our strap production to precise physical parameters assuring highly reliable protection for your packaged goods. Our Polypropylene (PP) and Polyester (PET) strapping materials are engineered to optimize Mosca machine performance, enhancing system reliability and high peak results.
Strap Quote
Find out more
Polyester (PET)
| Product | Strap Width | Coil Length | Avg. Break Strength | Color | Surface Finish | Get Quote |
| --- | --- | --- | --- | --- | --- | --- |
| | 11mm (7/16") | 3,658m (12,000') | 140kg. (300lbs.) | | Embossed | + |
| | 11mm (7/16") | 2,195m (7,200') | 230kg. (500lbs.) | | Embossed | + |
| | 11mm (7/16") | 3,353m (11,000') | 230kg. (500lbs.) | | Embossed | + |
| | 12mm (1/2") | 3,200m (10,500') | 230kg. (500lbs.) | | Embossed | + |
| | 12mm (1/2") | 2,195m (7,200') | 275kg. (600lbs.) | | Embossed | + |
| | 12mm (1/2") | 2,743m (9,000') | 275kg. (600lbs.) | | Embossed | + |
| | 12mm (1/2") | 1,981m (6,500') | 335kg. (775lbs) | | Embossed | + |
| | 9mm (3/8") | 4,877m (16,000') | 115kg. (250lbs.) | | Embossed | + |
| | 9mm (3/8") | 4,572kg. (15,000') | 140kg. (300lbs.) | | Embossed | + |
| | 9mm (3/8") | 3,352m (11,000') | 195kg. (420lbs.) | | Embossed | + |
| | 9mm (3/8") | 2,316m (7,600') | 195kg. (420lbs.) | | Embossed | + |
| | 9mm (3/8") | 2,316m (7,600') | 195kg. (420lbs.) | | Embossed | + |
| | 9mm (3/8") | 3,658m (12,000') | 195kg. (420lbs.) | | Embossed | + |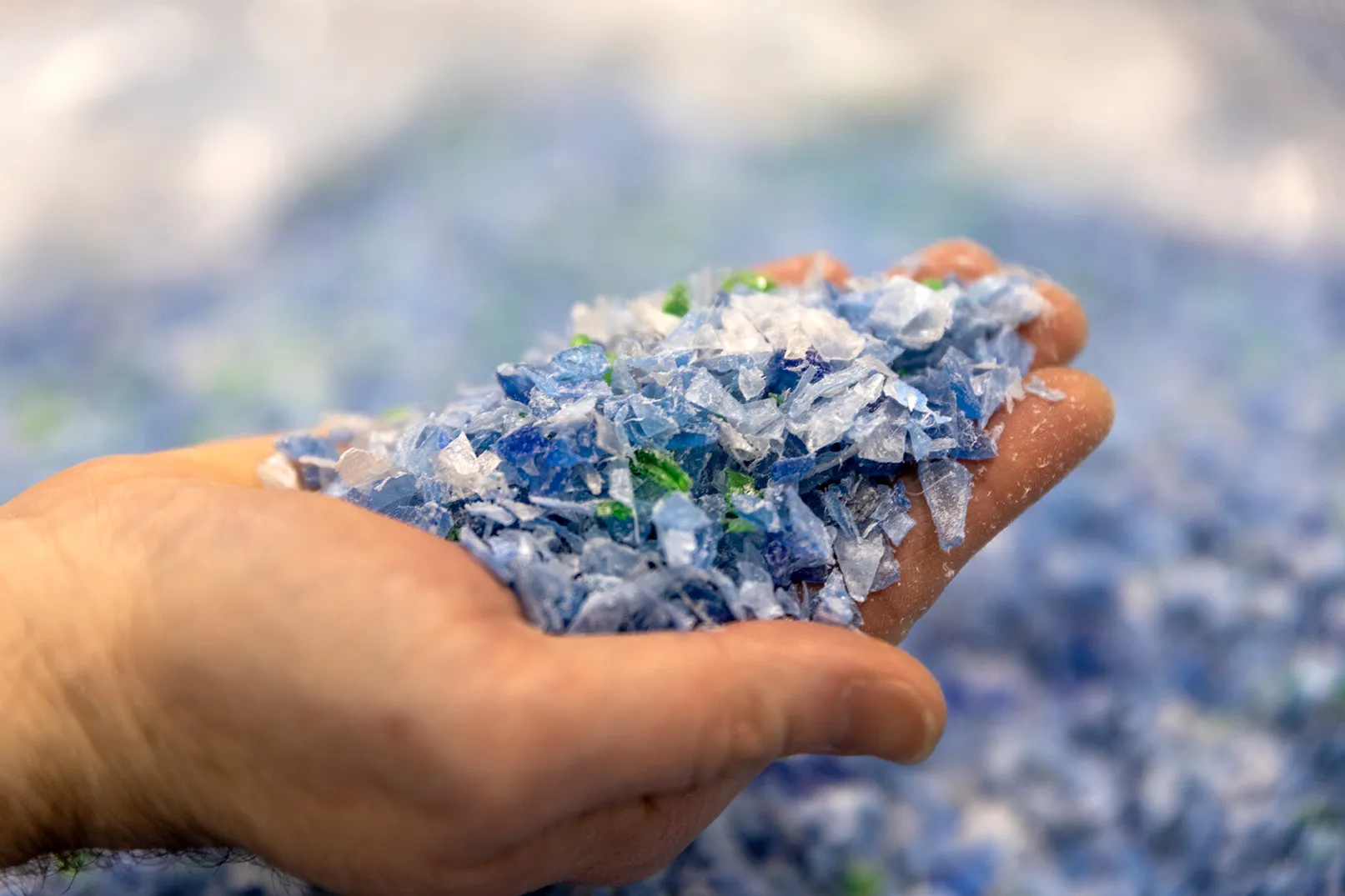 EAM-Mosca Strapping Products
Mosca's innovative strapping and sealing technology enables products to be reliably strapped with a lighter and narrower strap. This configuration reduces strap size or the number of applied straps, saving our customers considerable cost and resource consumption.
We rigorously test our PP and PET straps in Mosca machines before using them in high-speed packaging applications. Our strapping materials are available in a wide variety of widths, colors, and break strengths. This variety ensures a worry-free strap that fits easily in all production lines, no matter their structure.
Other EAM-Mosca strapping material benefits include:
Improved split and camber resistance.
Reduced dusting and tracking wear.
Enhanced stiffness resistance.
Dependable break strength and width.
Optimal feeding and sealing consistencies at high speeds.
Polypropylene (PP) Strapping
Polypropylene is a low-cost option for strapping applications. It's excellent for high-speed bundling, carton and other container reinforcement, strapping packages, and other lighter pallets. Its elasticity allows the strap to adapt to abnormally-shaped packages, making it extremely effective. We produce PP strapping in widths from 5mm to 12mm.
Advantages and Benefits of EAM-Mosca PP Strapping
EAM-Mosca PP strapping provides a variety of unique benefits for users, such as:
Consistent break strength: Our strapping provides consistent break strength for a wide variety of tensile weights. It also offers the least cost per unit break strength, reducing expenses for clients.
Weld-efficient: The strapping can also assist with weld strength. Its versatility allows it to support a range of light to medium-weight packaged goods.
High elasticity: Our PP strapping's high elasticity maintains consistent tension for products — from 4% to 10% stretch in a working tension range.
Ideal elongation: PP strapping has strong elongation capabilities, able to stretch a considerable amount following tension application. It also displays ideal elongation recovery.
Water-resistant: This strapping type does not absorb water, protecting products from damage.
Polyester (PET) Strapping
Polyester strapping is strong and elastic, often used in place of steel bands. Its elasticity enables it to reliably absorb shock loads while resisting elongation, helping it restrain unstable or expanding products. Our PET strapping consists of nearly 100% recycled plastic. It's especially beneficial for use with our proprietary sonixs® ultrasonic sealing configuration, which seals completely and reliably. Our manufactured widths include 9mm, 11mm, and 12mm.
Advantages and Benefits of Polyester (PET) Strapping
PET strapping users can also experience advantages like:
100% recyclable materials: EAM-Mosca strapping material is manufactured from both pre- and post-consumer recycled PET material, making it an environmentally friendly choice.
High joint strength: PET strapping offers reliability and weld efficiency in heavy-duty applications.
Optimal tension maintenance: This strapping type retains tension during storage and other conditions.
Stretch resistance: Our PET strapping materials contain ideal stretch resistance — between 2% and 6% in the working tension range.
Climate resistance: PET strapping provides more resistance to environment-related impacts. For instance, it offers more protection against ultraviolet rays and ambient temperature changes.
Retains its shape: PET strapping has limited dusting and minimal camber when coiled. It tightly secures loads that settle, shrink, or expand over long periods.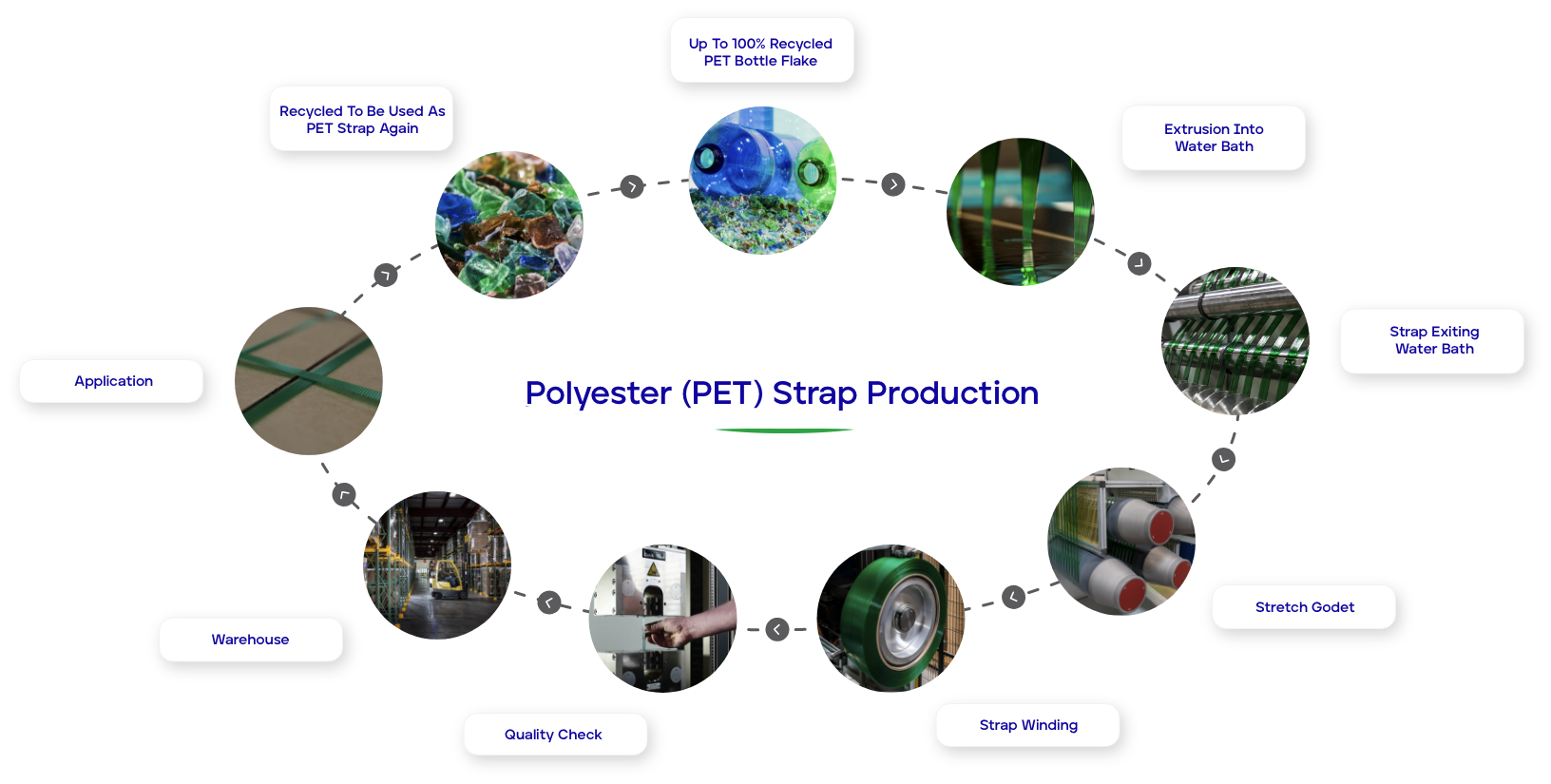 Polyester (PET) Strap Production
Up To 100% Recycled PET Bottle Flake
Extrusion Into Water Bath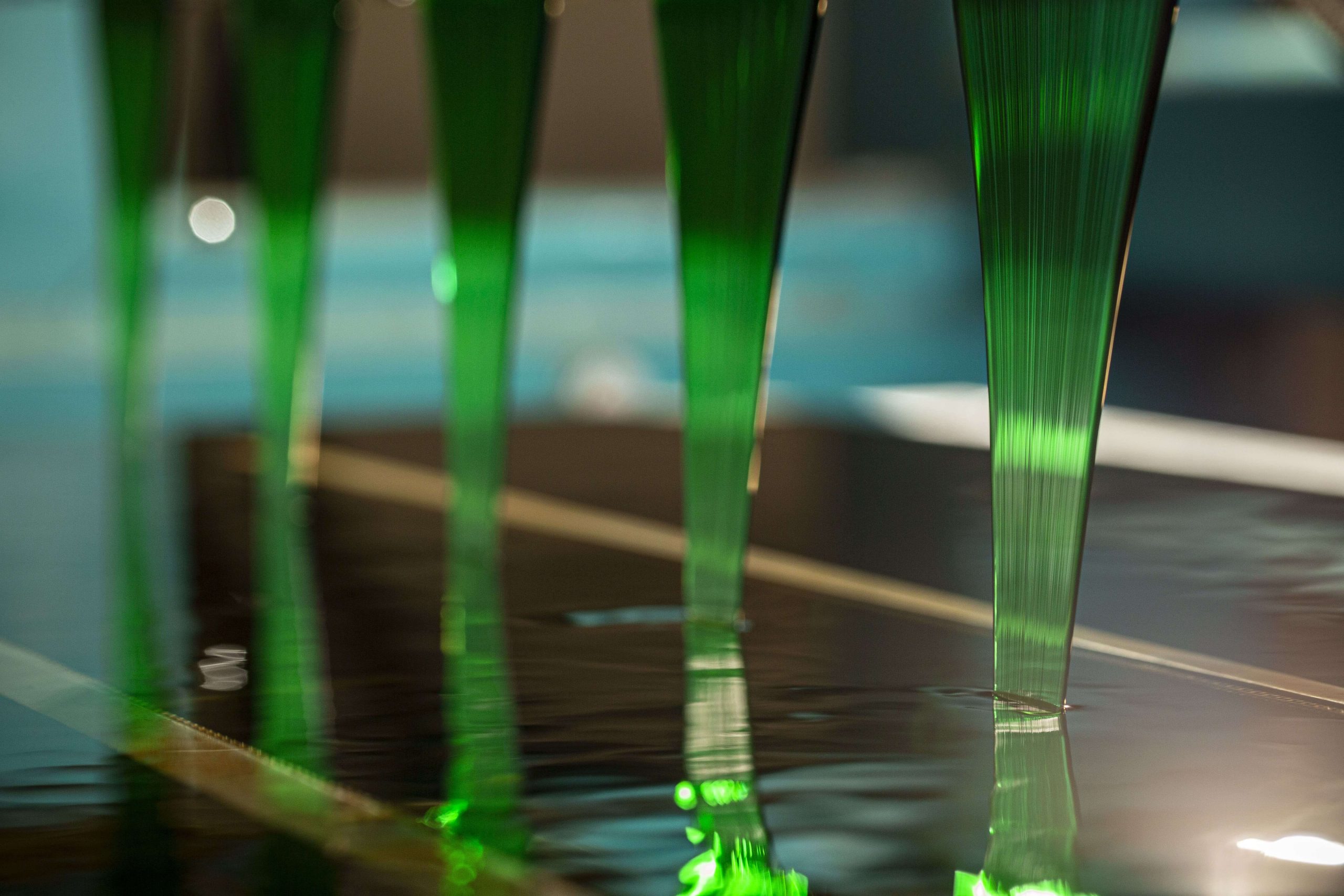 Strap Exiting Water Bath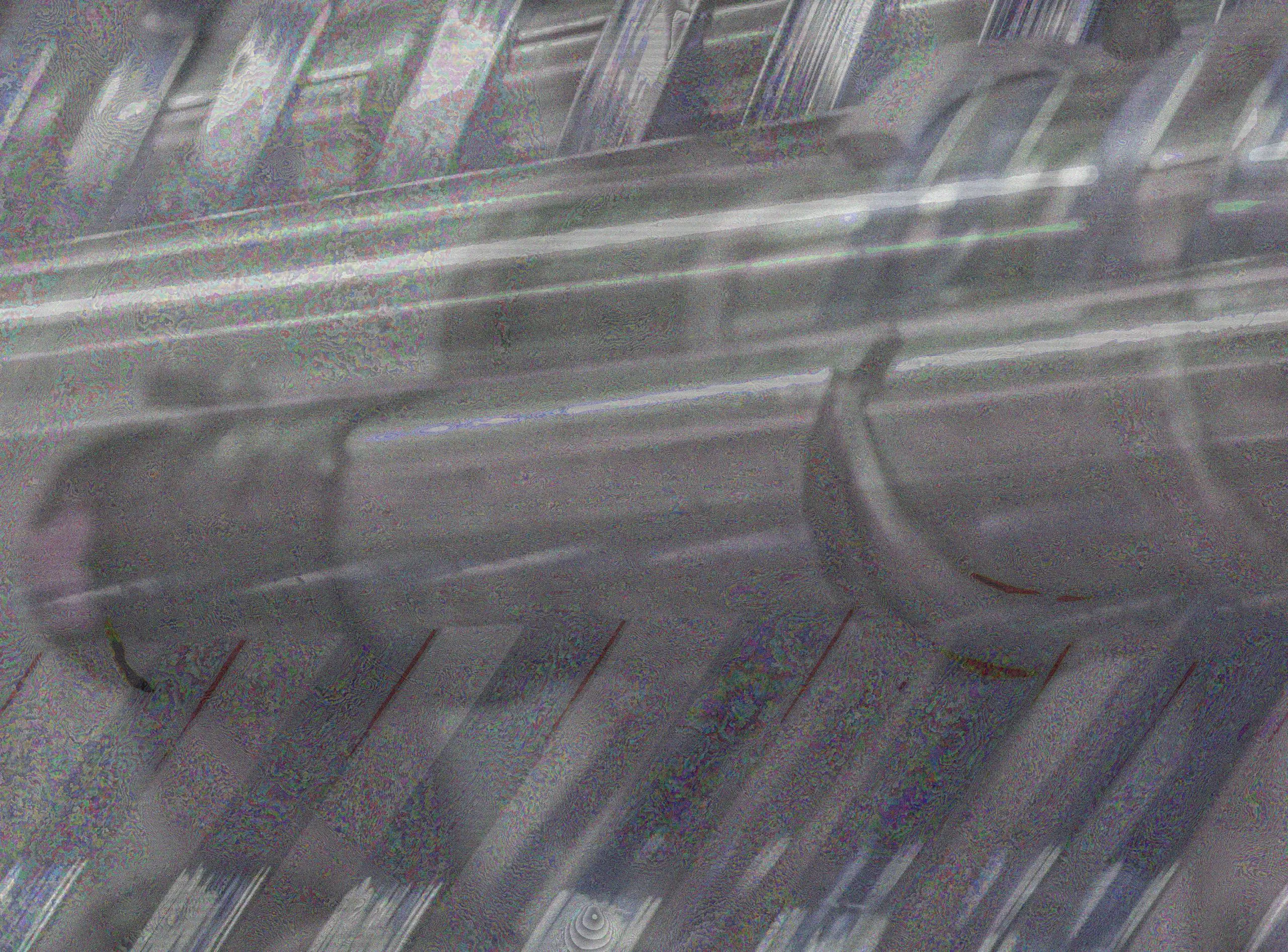 Stretch Godet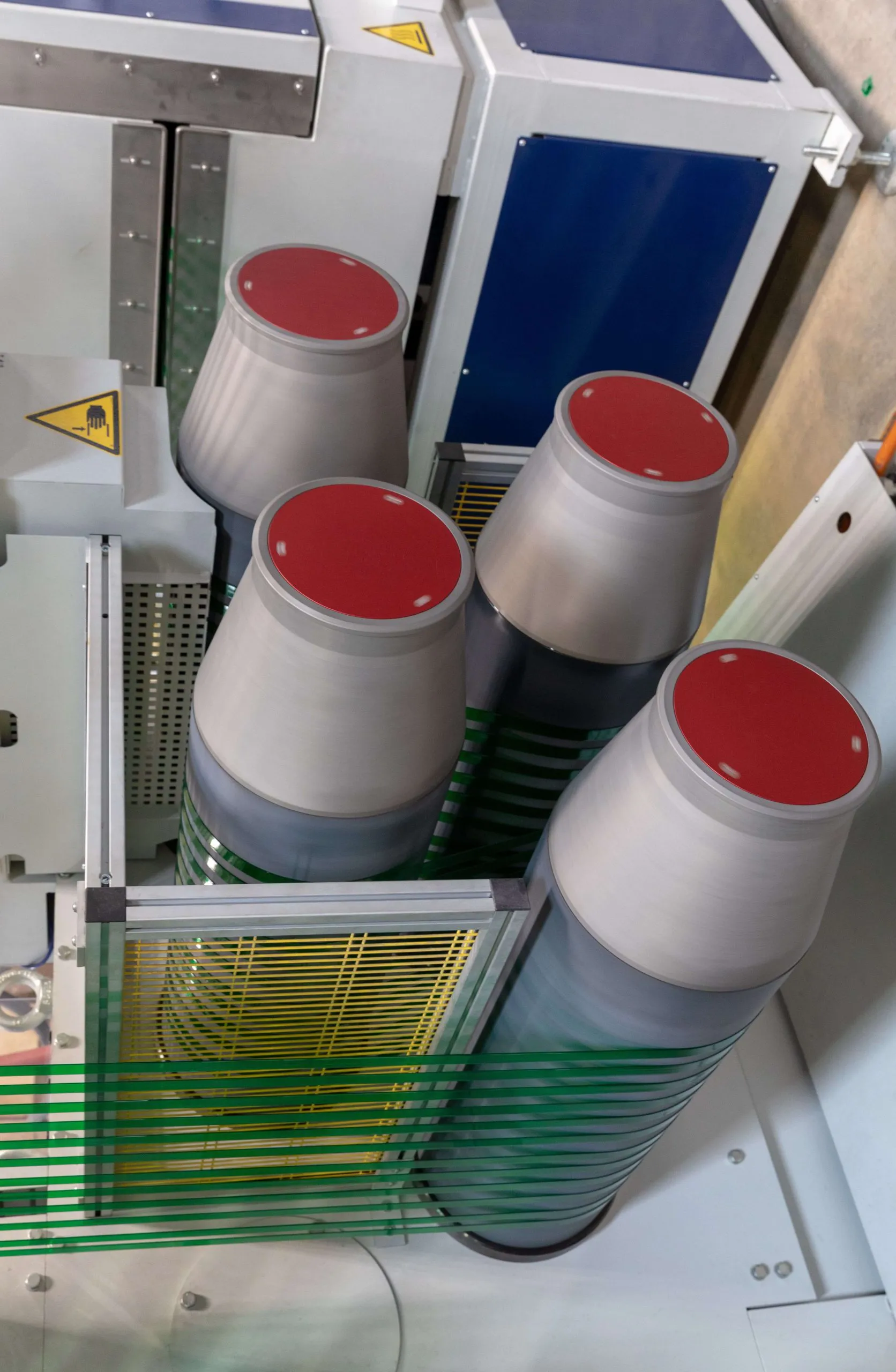 Strap Winding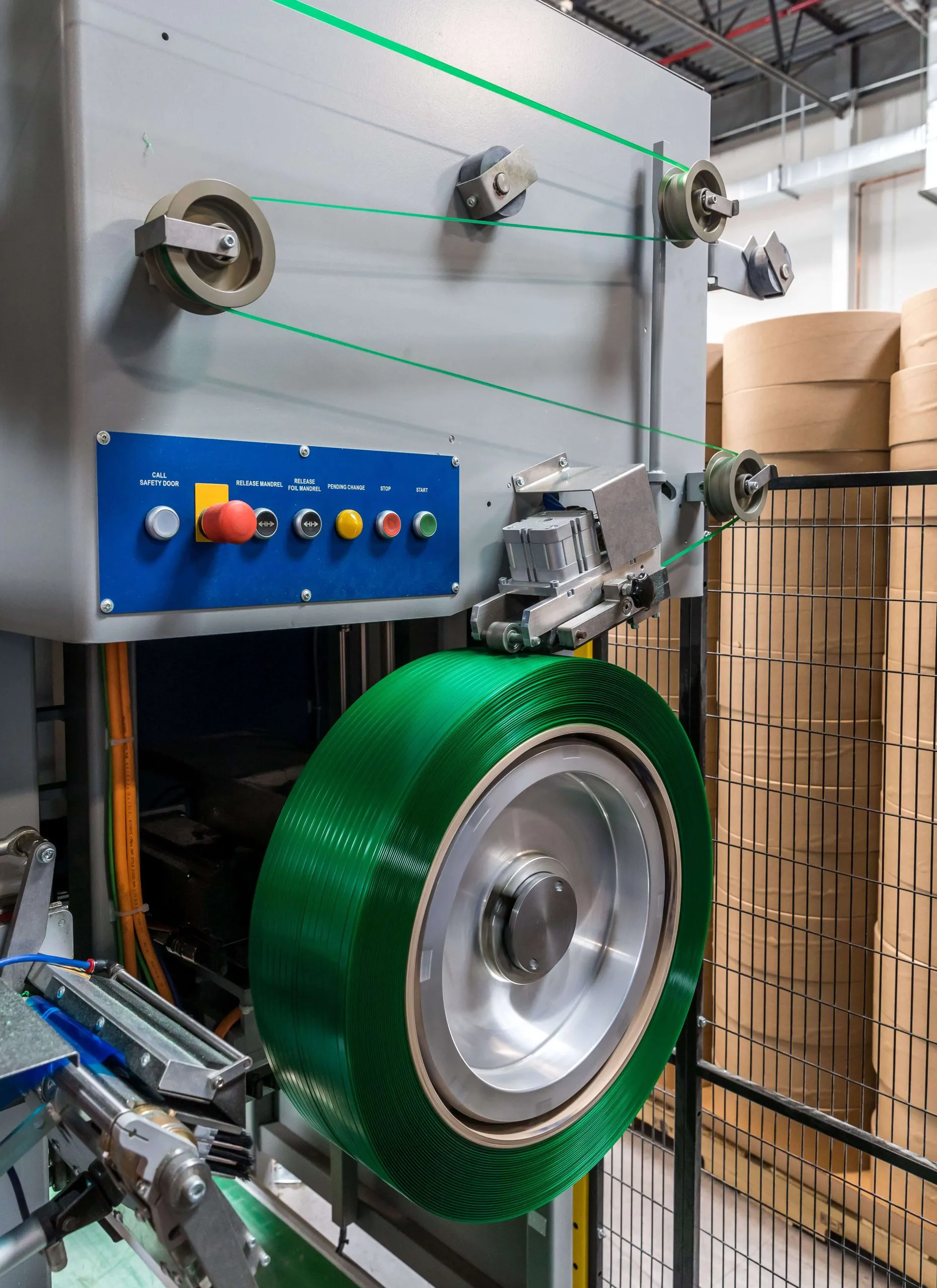 Quality Check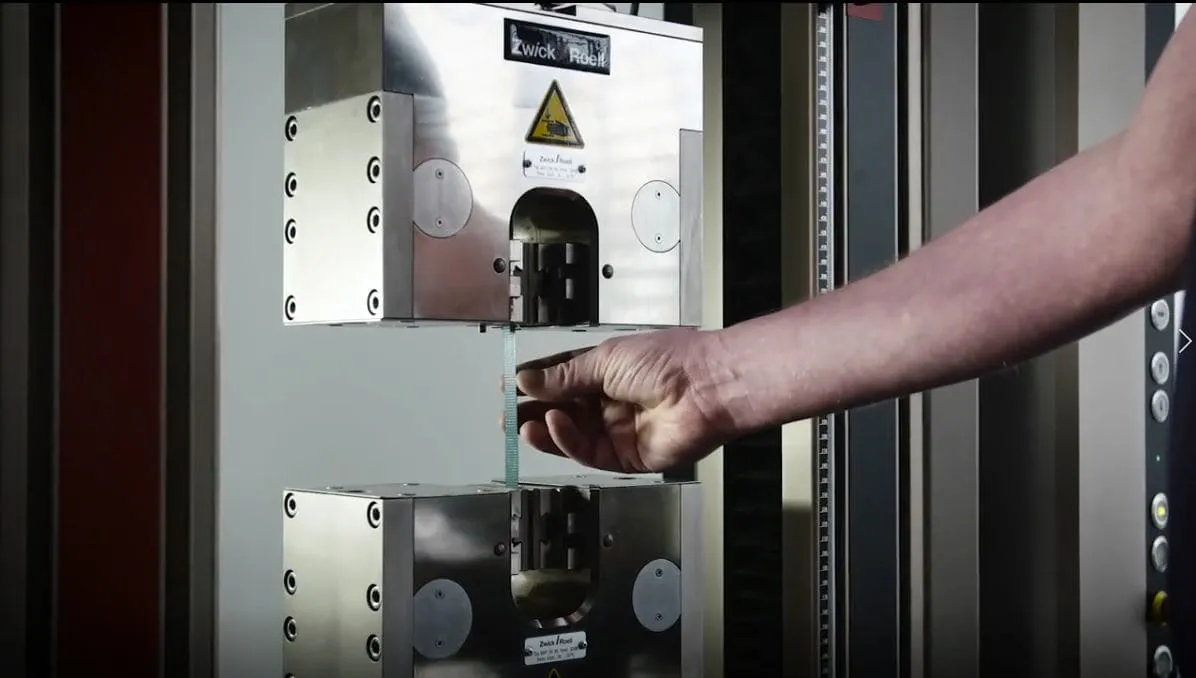 Warehouse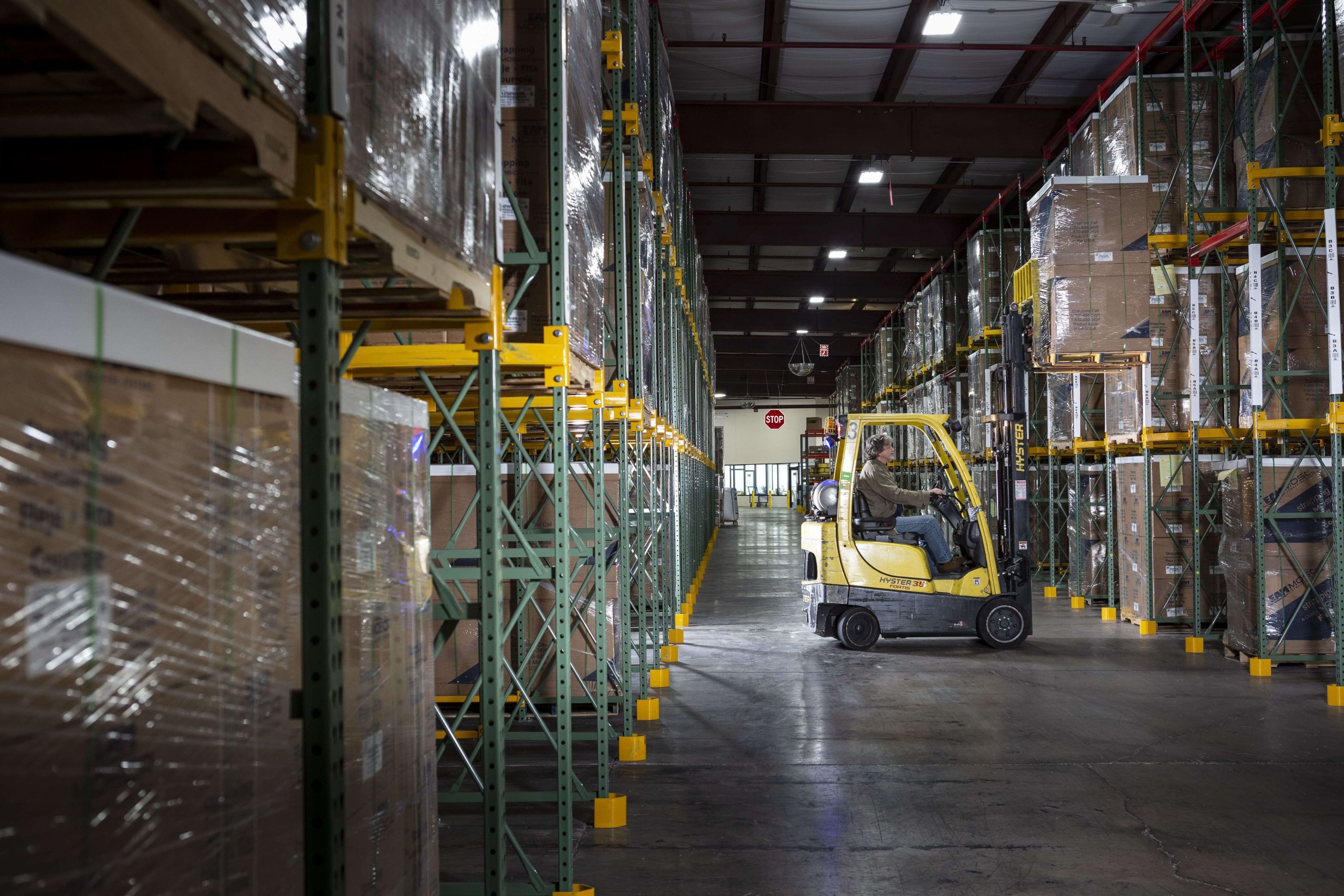 Application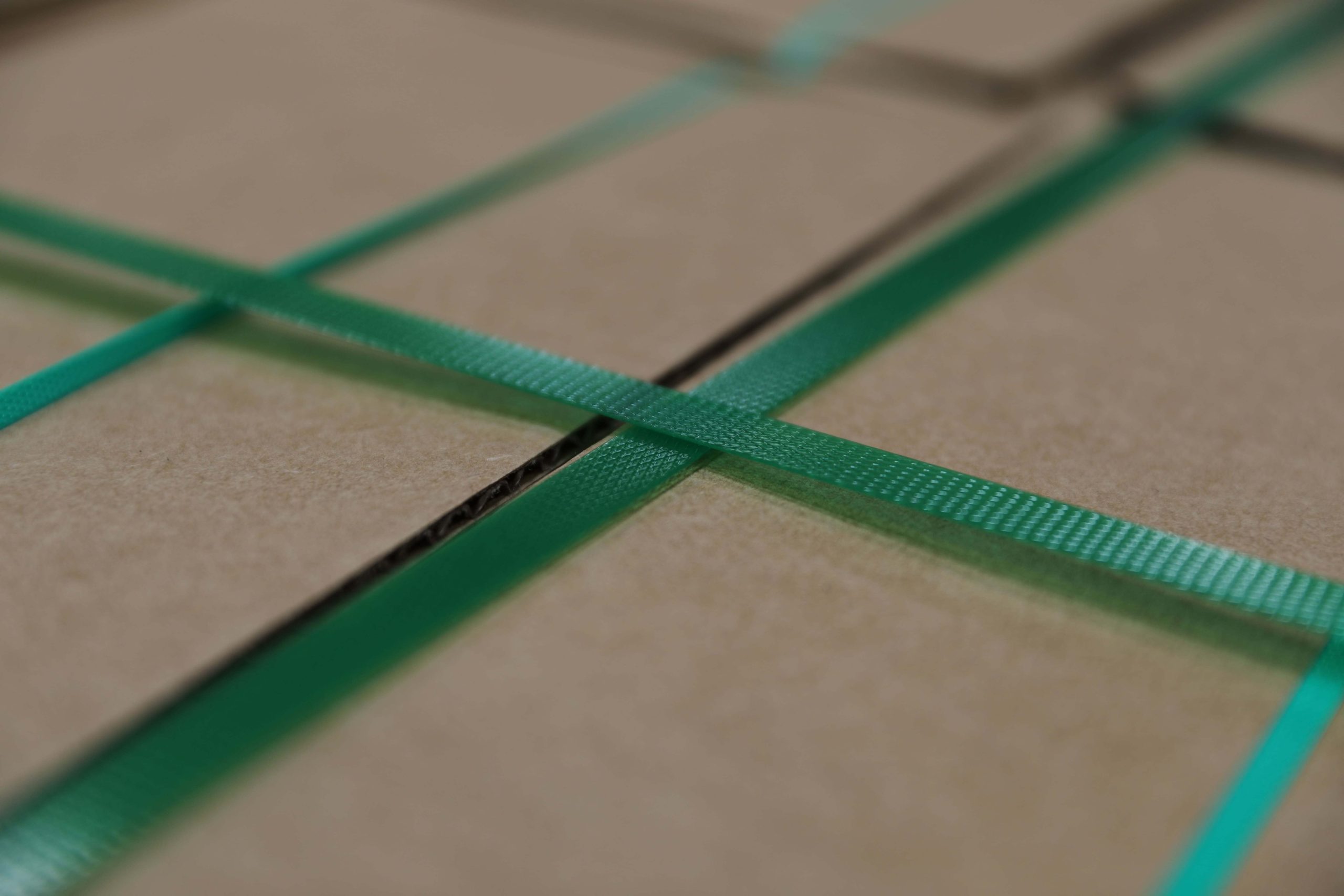 Recycled To Be Used As PET Strap Again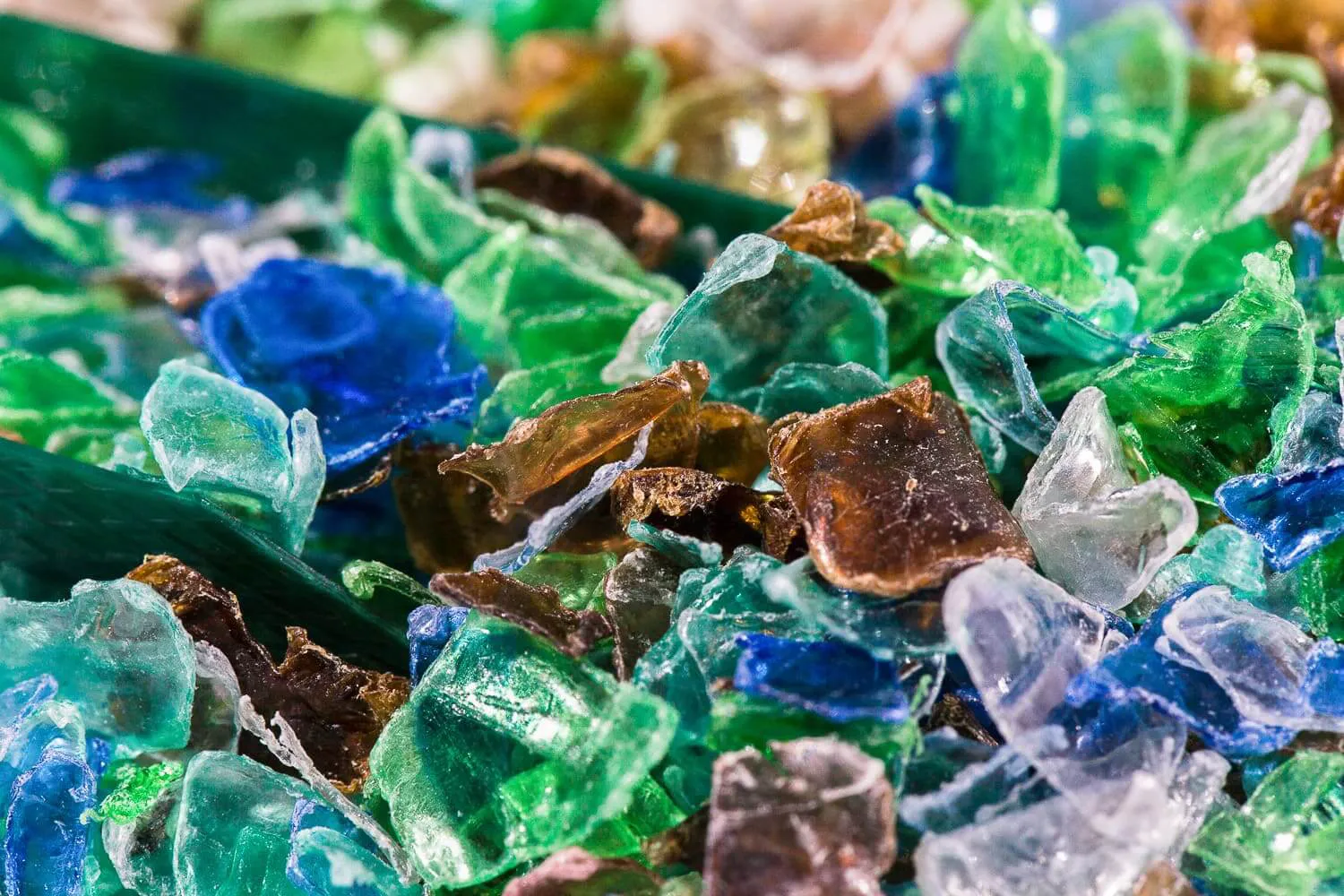 Strap Use Guide
Confused about which strap type you should use? Check out our guide below for our general industry recommendations. The graphic divides the two strapping materials into common sizes. Then, it organizes the sizes by typical uses in critical industries, such as food and beverages or printing and mailing. You can use the chart to find the best fit for your application.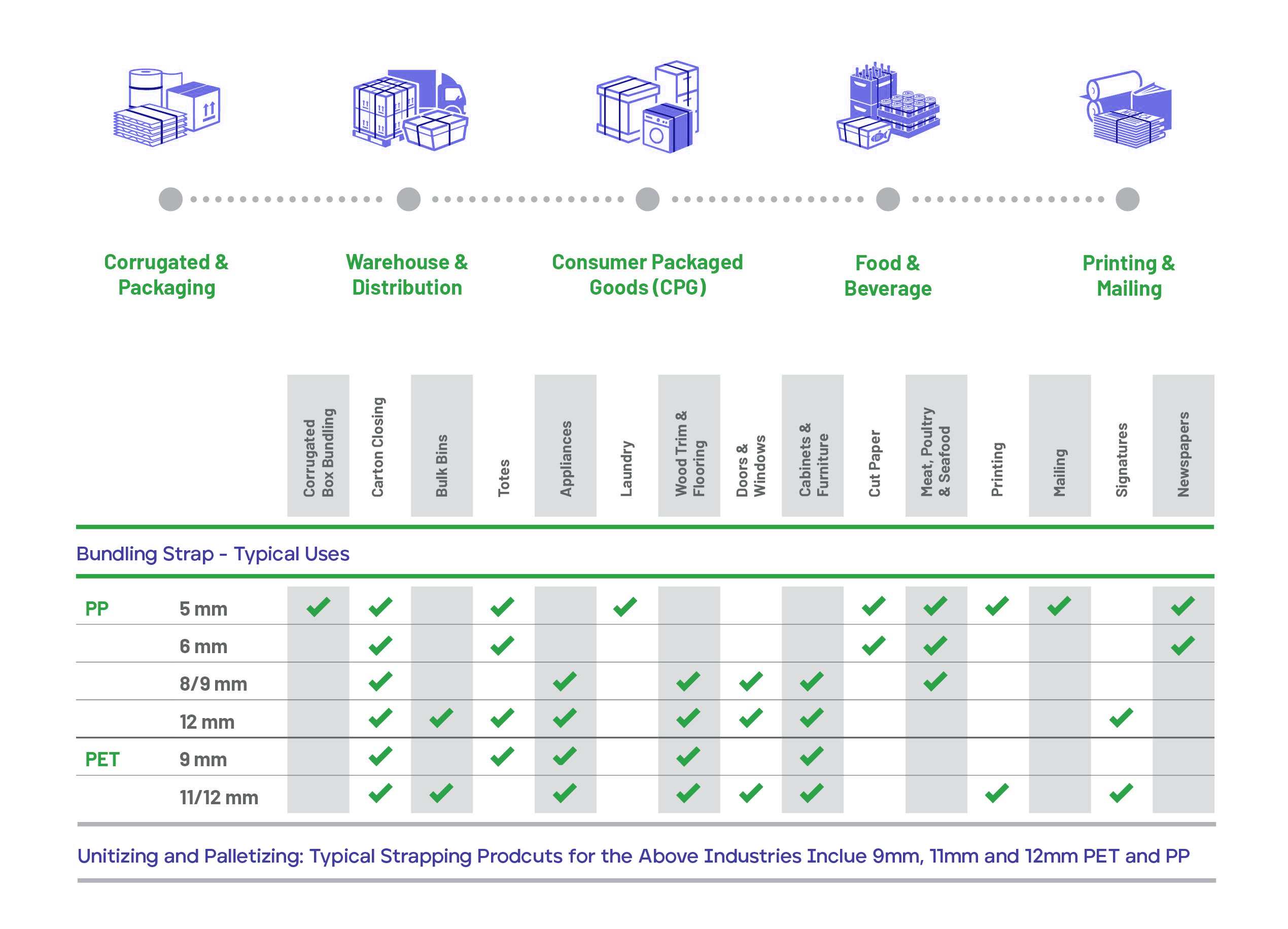 Innovative Strapping Products
Optimize Your Machine Performance
EAM-Mosca strapping materials allow you to access the full benefits of your machine. We provide customized solutions that meet the specific needs of your machine. Tailored designs help us meet exact physical structures, which enhance your system's dependability and performance.
Improved machine performance can boost your team's overall productivity rates. You can reduce damaged product numbers by trusting our rigorously tested materials. We base quality on strict manufacturing standards, ensuring it assists your machines. Our flexible strapping deliveries allow you to purchase any quantity — from a single box to an entire truck or container load.
Still Have Questions?
EAM-Mosca is a leading provider of automatic strapping machines. For more than 40 years, we have provided clients with innovative and transformative systems. Our machines can help you increase productivity and meet performance goals in no time.
We offer dedicated service and support for all of our strapping equipment. Our in-house technicians can answer any questions over the phone or by email anytime. You can also select in-field services for repairs or choose from our preventive maintenance options.
If you have any questions about your strapping products, contact EAM-Mosca today.