Delivering Excellent Machine Performance
EAM-Mosca strapping materials are engineered to optimize Mosca machine performance and enhance system reliability. Our quality is based on stringent raw material control and critical manufacturing parameters.
We offer a variety of sizes, colors, break strengths, and either bulk pallet loads or cartoned products. Most strapping products are sold from stock. For assistance in choosing the right strap product, please call your regional sales manager, or our customer service department.
Jump to Products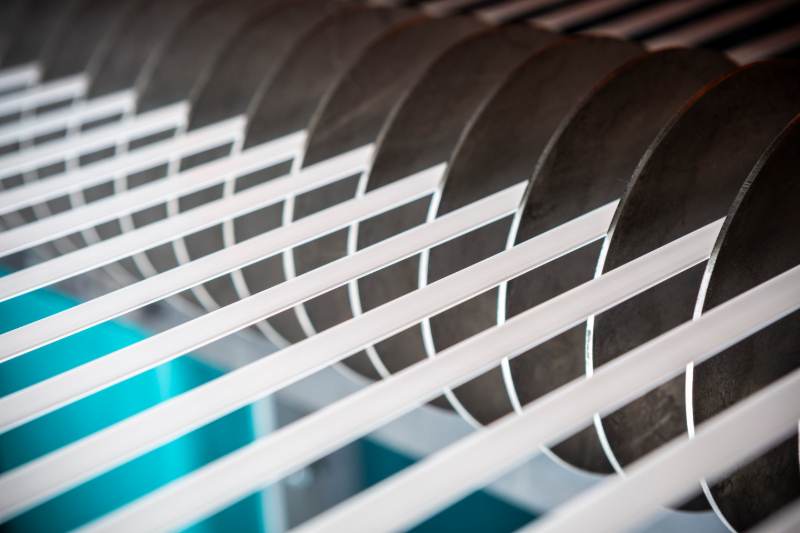 EAM-Mosca's Strapping Products
Mosca's innovative Sonixs sealing technology has enabled products to be reliably strapped with lighter and narrower products, reducing strap size or the number of applied straps, saving customers considerable cost and resource consumption. Our PP and PET straps are rigorously lab tested before being sold for high-speed packaging applications. EAM-Mosca's strapping products are available in a wide variety of widths, colors, and break strengths to ensure a worry-free product that meets your production needs.
EAM-Mosca strapping advantages:
Enhanced split and camber resistance

Minimal dusting and track wear

Improved stiffness and folding resistance

Consistent break strength and width

Superior feeding and sealing consistency at high speeds
Strap Reference Guide
POLYPROPYLENE (PP) STRAPPING
PP is widely used for strapping applications and is particularly suitable for strapping bundles, small to large cartons as well as lighter pallet loads. Its elasticity and recovery helps the strap mold to the contours of irregularly shaped packages making it extremely effective. PP strapping is available in widths of 5 – 12 mm.
Advantages of EAM-Mosca PP strapping:
Weld efficient and versatile for a wide range of light to medium weight packaged goods

Elasticity helps to maintain consistent tension. EAM-Mosca's PP strap has a 4-10% stretch in working tension range

Greatest elongation of strapping products and good elongation recovery

Does not absorb water
POLYESTER (PET) STRAPPING
Being strong as well as elastic, PET strapping is often used in place of steel bands. Its elasticity enables it to reliably absorb shock while resisting elongation, helping to restrain heavier, unstable or expanding products. Our PET strapping consists of one hundred percent recycled materials such as plastic bottles (bottle flakes) and is especially suited to be used with Mosca's proprietary Sonixs ultrasonic sealing system – sealing efficiently and reliably. We manufacture PET in widths of 9 mm, 11 mm, and 12 mm.
Advantages of EAM-Mosca PET strapping:
100% recyclable, and is manufactured from both pre and post-consumer recycled PET material

Reliable, high joint-strength and weld efficiency in heavy-duty applications

Tightly secures loads that settle, shrink, or expand over long periods

Maintains tension during storage

Stretch resistance. EAM-Mosca's PET strap has a 2 – 6% stretch in working tension range

More resistant to ultraviolet rays or changes in ambient temperature

Low dusting and minimal camber