6 Challenges for Corrugated Box Makers
Today, companies in the corrugated box industry are facing many of the same challenges. Though these challenges may vary in urgency and intensity from company to company, you may be struggling with some of the issues below. To help you overcome these challenges, we must first analyze why they are occurring. 
Fortunately, there is some good news about corrugated box trends, and despite its challenges, the corrugated industry is positioned for growth in the coming years. We cover more on these trends below, along with how EAM-Mosca Corporation can help you overcome corrugated box challenges.
6 Challenges the Corrugated Box Industry Faces
Below are some of the challenges you may be facing in the corrugated box industry.
1. Supply Chain Issues
Supply chain issues have affected many industries and the corrugated box industry is no exception. Everything used for running a plant has been affected, from paper to glue to strapping materials. For some products, lead times have increased from days to weeks. These supply chain issues have required corrugated box companies to adapt by evaluating demand from customers to better tailor solutions for them.
Disruptions in the supply chain are also caused by issues with transportation, labor, and equipment. Shutdowns have impacted corrugated box manufacturers and their suppliers, causing delays that make it challenging to maintain supplies. Though supply chain issues are still present, many companies in the corrugated box industry are noticing improvements.
2. Increase in Raw Material Prices
The cost of the raw material used to make corrugated packaging is increasing, which is another major challenge the corrugated box industry is facing. Many industries are competing for raw materials, and the supply is dropping daily. Due to the increase in demand and the drop in supply, the cost has risen accordingly. Since companies in the corrugated box industry need to spend more on raw materials like kraft paper, prices throughout the supply chain have increased. 
Another one of the reasons behind this increase in raw material prices is the increase in energy costs at paper mills. This increase in production costs has trickled down the supply chain to companies in the corrugated box industry.
3. Demand for Custom Packaging
The demand for custom packaging is growing rapidly. This is due in part to the demand of varied shapes in the carton packaging market. Custom packaging is the new norm. Though the demand for custom packaging is good, it can be troublesome for those not equipped to handle it. 
Corrugated box manufacturers need to be capable of swiftly adapting to customers' changing needs to stay competitive. As a corrugated box manufacturer, you also need to be able to produce innovative custom packaging efficiently while keeping costs as low as possible per package. Maximize the folder gluer's productivity by optimizing your production capabilities and installing quality folder gluer packaging equipment.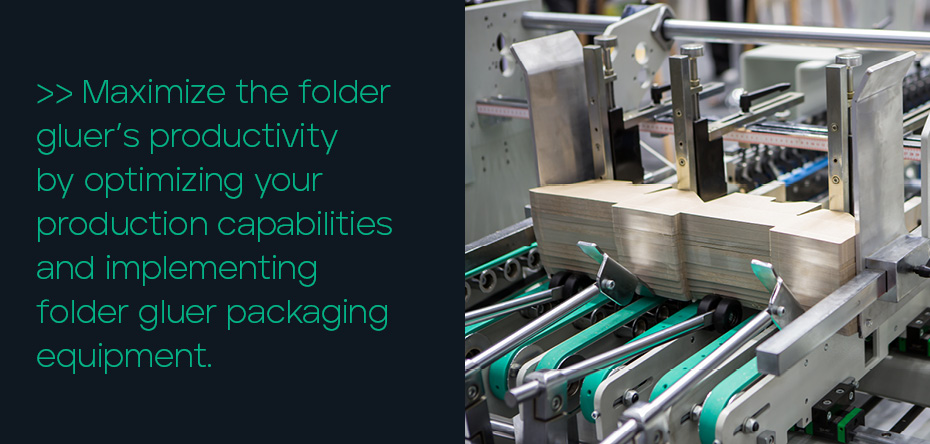 4. Small or Single Orders
There is also an increasing demand for orders that do not meet a manufacturer's minimum quantity requirements. Whether a customer requests 100 boxes or one, you need to be able to provide what they need and adapt quickly. To ensure your business's longevity in the corrugated box industry and stay competitive, you need to remain flexible. 
If you don't currently offer your customers the option to place an order without minimum quantity requirements, you may want to implement this option to surpass the competition and retain your customers. Though they may not seem worthwhile, small or single orders can help keep you in business. 
5. Equipment Downtime
Due to the substantial volume of output the corrugated box industry produces daily, the industry is very dependent on reliable equipment, as it is sensitive to productivity numbers. As a result, unexpected equipment downtime can be costly. Equipment downtime could be caused by mechanical failures or disasters, such as floods or fires. 
Be sure to keep up with preventative maintenance to minimize downtime. The proper maintenance should keep your equipment in ideal working condition so you can continue meeting your objectives. EAM-Mosca Corporation has systems that can reduce downtime, allowing you to meet and exceed performance goals.
6. Last-Minute Orders 
The corrugated box industry is also facing the challenge of receiving last-minute orders. This is one of the most challenging ongoing issues that corrugated box manufacturers face. While last-minute orders can mean more business and revenue, they can also mean tighter deadlines and more stress for your team. If an order arrives at the end of the day, you'll need to manage it first thing in the morning the next day. 
Though these orders are placed at the last minute, the requirements and customer expectations are still the same. You need to provide high-quality boxes that meet your customers' needs in a timely manner. To successfully manage last-minute orders, incorporate a high-performance machine that has the power to produce more at a faster speed with fewer packing personnel.
The Good News About Corrugated Box Trends
Fortunately, there is some good news for companies in the corrugated box industry. The e-commerce industry is growing, and there has been an increase in demand for sustainable packaging.
Increase in e-commerce: One of the most promising corrugated box trends is the big increase in the e-commerce industry. Businesses are going online more than ever before, and there is a huge boost in demand for corrugated packaging. The corrugated industry represents a large portion of e-commerce demand, which means that growth in the e-commerce industry may also lead to growth in the corrugated industry.
Demand for sustainable packaging: Corrugated cardboard is sustainable, and there is currently an increasing demand for sustainable packaging and solutions like strapping.
Looking Towards the Future 
Despite its challenges, the corrugated industry is positioned for growth in the coming years. Though companies may have to adjust how they do business, there is still potential for growth, especially if you can be flexible and overcome the challenges the industry is facing. 
To stay ahead of the competition and continue growing your business, it's essential to have the right equipment for the job, such as strapping machine for the corrugated industry.
Overcome Corrugated Box Challenges With EAM-Mosca Corporation
EAM-Mosca Corporation has more than three decades of experience manufacturing and distributing strapping systems, along with polyester (PET) and polypropylene (PP) strapping. We have installed more than 25,000 machines across the Americas, and our automatic strapping machines can increase line speed, package protection, and productivity. Benefits of choosing us include:
Our comprehensive system includes groundbreaking technology, environmental responsibility, customer satisfaction, and superior performance. Contact us today to learn more about our corrugated solutions and for excellence in strapping solutions.